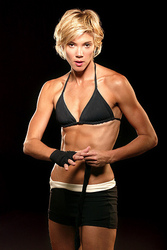 These are fantastic recipes for a fun and healthy Thanksgiving that you won't regret
Los Angeles, CA (PRWEB) November 16, 2010
Celebrity fitness trainer Jackie Warner, star of 'Thintervention with Jackie Warner' on Bravo and author of the New York Times best-selling book "This Is Why You're Fat (And How to Get Thin Forever)," has unveiled her free 2010 Healthy Thanksgiving Menu, found at http://www.fitorbit.com/ib/JACKIESHOLIDAY. Warner developed this healthy menu in partnership with market leader FitOrbit as part of her online personal training program, which provides clients with one-to-one communication with real human trainers who provide custom fitness plans for under $11 a week.
"Thanksgiving is usually the start of the slippery slope to winter weight gain," notes Warner. "Take control of your diet with these delicious and healthy Thanksgiving recipes, and give yourself a head start on your 2011 New Years weight loss resolutions."
The centerpiece of Jackie Warner's healthy Thanksgiving dinner is a holiday turkey, but recipes for a healthy and hearty soup along with a unique take on classic mashed potatoes and a tasty dessert make for a complete and healthier menu:

Simple Savory Turkey - This healthy take on the Thanksgiving dinner standard uses only a little olive oil, salt and pepper to create a turkey so thoroughly juicy that it needs no basting
Hearty Holiday Mashed Cauliflower - It may look and even taste like mashed potatoes, but this healthy recipe calls on cauliflower to deliver a fool-your-pallet flavor and texture while remaining dairy free
Creamy Creamless Potato Soup - Dialing back the cream with 2 percent milk and rolling in non-fat yogurt to gives the dish its creamy texture without relying on saturated fat
Fitness Friendly Pumpkin Pie - This healthy pumpkin pie recipe is gluten free, dairy free, and vegan, yet sweet, flavorful, and filling
"A turkey you don't need to baste? Sides and dessert that taste good and fill you up without filling you out and slowing you down? These are fantastic recipes for a fun and healthy Thanksgiving that you won't regret," concludes Warner.
Jackie's visitors will find much more than Jackie Warner's Healthy Thanksgiving Dinner Menu recipes. They will also have the opportunity to sign up for her innovative online personal weight-loss program with a human touch. The comprehensive program includes a dedicated consultant who creates, monitors and updates a customized workout and meal plan on a daily basis, all for as little as $11 a week. Jackie Warner fans can work with her handpicked trainers through her FitOrbit-powered system at http://www.JackieWarner.com.
"The best way to avoid gaining weight this holiday season is to make yourself accountable," states Warner. "Start 2011 in the best shape of your life by signing up with one of my personal trainers at http://www.JackieWarner.com ."
###