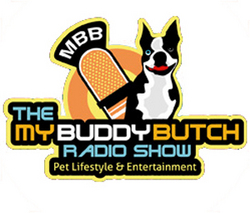 Radio reaches more than 239 million [people] over the course of a typical week so if we can bring families together, find some pets a good home, and help some people take better care of their own pets then we're doing our job."
Canton, OH (PRWEB) November 17, 2010
Jemar Entertainment, Inc. today announced the release of the "My Buddy Butch Radio Show" into National Syndication. The show began in 2008 as an addition to the Multi-Award Winning Book "My Buddy Butch – Confessions of a New Dog Dad" and has grown a world-wide weekly following for families and animal lovers everywhere. In an expanded agreement with Talk Shows USA, who currently distributes the My Buddy Butch Daily Features, the 2 hour show will be airing on terrestrial radio every Saturday from 10am to Noon EST and will be made available to affiliates through the MBB Radio Network on the ABC/Citadel Satellite System as well as through the company's secure affiliate portal.
This "family-friendly" show is hosted by Award Winning author/producer Jeff Marginean "The man that wants to mow your lawn" and Boston terrier Butch, who speak with special guests in the form of celebrities, entertainers, best-selling authors, veterinarians, trainers, and pet product/ food manufacturers. Weekly segments include the "Rescue of the Week" talking to rescues around the USA and Canada and our "Vet Topic of the Week" from Top Veterinarians around the country on timely topics. We also discuss important animal/pet legislation in various states around the USA. The My Buddy Butch Radio Show is "not just another pet based radio show" says host Jeff Marginean. "It is important to me that our show focuses on the Family as a whole through the eyes of our pets. My own eyes have been opened since I was given Butch, and I have seen how having a pet has improved the quality of life for my 86 year old Dad." Marginean reflects, "I want to share this source of unconditional love from pets that others may not be aware of, and do a little entertaining in the process. **Radio reaches more than 239 million persons aged 12 and older over the course of a typical week so if we can find some pets a good home, bring families together, and help some people take better care of their own pets then we're doing our job."
The show covers the best in family friendly entertainment including popular TV shows, music, and film on networks such as National Geographic Channel, Animal Planet, Discovery, Hallmark Channel, ABC Family as well as all of the major televised Dog Shows such as the National Dog Show Presented By Purina on NBC, the AKC/Eukanuba Championship, and the Westminster Dog Show from Madison Square Garden in New York City. Contributors to the show include Dick Rolfe CEO of the Dove Foundation discussing the latest family movies coming out of Hollywood, Denise Fleck pet safety expert from SunnydogInk.com, Dr. Patrick Mahaney our "Vet to the Stars," Dr. Donna Spector Consulting Veterinarian of Ellen Degeneres' Company HALO Foods, Dr. Kim Bloomer Veterinary Naturopath of Animal Talk Naturally, and Dr. Nancy Kay, Award Winning author of "Speaking for Spot." The My Buddy Butch Radio Show will also be available on-line exclusively through the newly launched MBB Radio Web Site as well as a free Podcast on Apple iTunes and Zune. The mbbradio.com site contains news feeds with the latest breaking news and recalls along with family/pet based news from the MBB Network News Blog. The My Buddy Butch Chronicle is the FREE newsletter that is made available with exclusive content. Jeff and Butch also host a blog on the site that is updated weekly with links from the current week's show. The show and Web Site will be hosting contests, giveaways, and games introduced on a timed schedule in association with various sponsors.
About Jeff Marginean and Jemar Entertainment, Inc.:
Jeff Marginean is President and CEO of Jemar Entertainment, Inc. He is a Multi-Award Winning author and producer, member of the Dog Writer's Association of America, and a Voting member of the National Academy for Recording Arts and Sciences home of the Grammys®. Jemar Entertainment, Inc. is a multimedia company and was founded in 1992.
For additional information or to schedule interviews with Jeff Marginean about My Buddy Butch please visit our contact Web page. For radio stations seeking information on becoming an affiliate please contact Skip Joeckel our Director of Affiliations. You can also check out My Buddy Butch on the Fan Page on Facebook and tweet with Butch and Jeff on Twitter.
*Statistics quoted from APPA Web Site
** Statistic from ARBITRON Web Site My Buddy Butch and MBB Radio Network are trademarks of Jemar Entertainment, Inc.
# # #