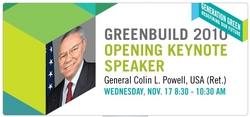 "We are very excited at the opportunity to present our Smart Skylights at the 2010 Greenbuild Convention" said Ciralight Global President, Jeff Brain, "It is expected to be the biggest Green convention yet"
Los Angeles, CA (PRWEB) November 16, 2010
Ciralight Global, developer and manufacturer of patented energy saving Smart Skylights™, will exhibit its patented product line at booth 778, at Greenbuild 2010, November 16-18, at McCormick Place West, Chicago, the world's largest expo devoted to promoting green building products.
What: Greenbuild 2010 Convention
Where: 2301 S. Lake Shore Drive, Chicago, IL 60616
When: November 16-18th
Greenbuild 2010 is in Chicago's McCormick Place West, With the tremendous growth of the Greenbuild community, the event we'll occupy the entire McCormick Place West. Chicago was the first cities to adopt LEED for public buildings and the city that is home to more LEED-certified buildings than any other, Chicago is truly committed to leadership as a "next-generation" city – the perfect place for us to celebrate being part of Generation Green. Together, we will define what the future looks like in cities and towns around the world. Colin Powell will give the Keynote speech for the 2010 Greenbuild Convention.
Ciralight is the only global provider of active daylighting skylights capable of turning off electric lights for up to 10 hours a day. Ciralight Smart Skylights utilize GPS suntracking technology with mirrors to track the sun to illuminate buildings during the daytime hours. Smart Skylights are used by retailers, manufacturers, schools, airports and government facilities which can cut their electrical costs for lighting by as much as 40-80%. The Energy Solution Group, one of Ciralight's local dealers, will take part in the event along with Ciralight Global. Other exhibitors include world famous multinational corporations such as General Electric, BASF, Johnson Controls, Georgia Pacific, the U.S. Department of Energy and the General Services Administration.
Ciralight's existing customer base, such as certain locations of Giant Foods, Office Depot, Ace Hardware, Emerson, Boeing, Johnson & Johnson, Staples, Whole Foods, Walt Disney Studios, and others, continue to evaluate the results they have achieved in lowering their costs of energy, and are in fact, either adding more locations, or are in process of doing so.
About Ciralight Global
Ciralight Global, Inc. headquartered in Corona, California, was created to bring natural solar daylighting indoors using our patented "Smart skylight" technology that utilizes a GPS unit that tracks the sun and a lens and mirror design to direct the natural light produced from the sun at a level of intensity and clarity that makes electric lighting unnecessary during daylight hours. The result is a FREE green natural light source during daylight hours, which will save energy, lower utility bills, improve customer and employee satisfaction and enhance performance in schools, factories and businesses that use the system. Now with the worldwide movement toward natural sources of energy and supporting a greener planet, Ciralight Global, Inc. is moving forward to make Solar Daylighting a construction industry staple and help millions of people experience healthier, less expensive, and energy saving lighting naturally. Ciralight Global, Inc. is the undisputed leader in the daylighting revolution.
About The Energy Solution Group
The Energy Solution Group is a distributor of energy savings products, representing the leading manufacturers of energy saving products with nationwide network capabilities from planning through installation. For over 50 years, our team has designed and executed affordable solutions which deliver energy savings and optimize facility performance. We are proud to serve as an authorized dealer for Ciralight Smart Skylights™, the number one Active Daylighting System worldwide. Our product offering is designed to support Energy Star Certification and LEED Credit acquisition.
Contact: Jim Witt, Ciralight Product Manager. Email: info(at)theenergysolutiongroup(dot)com. Address: 937 Burrell Avenue, Columbus, Ohio 43212. Phone: (800) 580-4432. Fax: (800) 658-1421. http://www.theenergysolutiongroup.com.
Forward-Looking Statements Any statements contained in this press release that refer to future events or other non-historical matters are forward-looking statements. Ciralight Global, Inc. disclaims any intent or obligation to update any forward-looking statements. These forward-looking statements are based on the reasonable expectations of Ciralight Global, Inc. as of the date of this press release and are subject to risks and uncertainties that could cause actual results to differ materially from current expectations. The information discussed in this release is subject to various risks and uncertainties, results of operations or financial condition, national and international government regulations and the risks associated with doing business across borders and territories, and such other risks and uncertainties as detailed from time to time in Ciralight Global, Inc.'s public filings with the U.S. Securities and Exchange Commission.
Contact information:
Michael Selsman, Publicist 310-553-5732 - ms(at)publiccommunications(dot)biz (media relations)
Jeff Brain, CEO 877-520-5005 Ext 130 (business relations) jeffbrain(at)ciralightglobal(dot)com
# # #