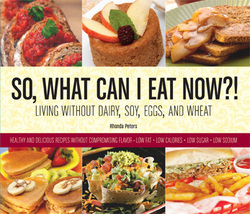 Holiday meals that are not only healthy, but also tasty; recipes for everyone to enjoy even those with food allergies or other dietary restrictions!
Phoenix, AZ (PRWEB) November 18, 2010
Rhonda Peters, a Louisiana native who currently resides in Arizona, has emerged on the scene, just in time for the holidays, with a cookbook which fuses the wonderful flavors of Louisiana Cuisine with that of heart healthy, gluten free, soy free, egg free and dairy free ingredients. The cookbook, "So, What Can I Eat Now?!" is an innovative, full color cookbook which seeks to provide those who suffer with high blood pressure and those who suffer with food allergies guidance on how to prepare delicious, healthy meals for the holidays. Given the challenge that people with chronic illnesses face when attempting to eat "healthy" during the holiday season, the recipes that are featured in "So, What Can I Eat Now?!" offer options in meal preparation that have never been offered to this segment of people before.
Ms. Peters' decision to write a cookbook which focused on low sodium, gluten free, soy free, egg free and dairy free ingredients stems from her own battle with thyroid disease and rheumatoid arthritis and her inability to consume foods with gluten, soy, dairy and eggs due to multiple food allergies. Ms. Peters' 15 year struggle with these chronic health issues and her desire to continue to enjoy the Southern style of cooking which she had enjoyed as a child propelled her to study and dissect traditional Southern and holiday recipes in search of healthy, flavorful alternatives. The result of Ms. Peters' laborious efforts is an exciting new approach to holiday cooking. So if you're searching for the perfect holiday brunch menu or if you're trying to prepare a full spread for your family's holiday gathering, order your copy of "So, What Can I Eat Now?!", as it is destined to become the premier holiday cookbook for people with dietary restrictions.
To learn more about Rhonda Peters or to purchase "So, What Can I Eat Now?!" visit http://www.rhondascooking.com. To learn more facts about living gluten free or living with food allergies, become a Facebook Fan of So What Can I Eat Now Page or follow @Rhondascooking on Twitter.
###