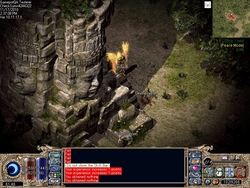 El Segundo, CA (PRWEB) November 18, 2010
Gamepot USA, Inc., the U.S. publishing division of Japanese gaming behemoth Gamepot, Inc., is proud to announce the latest update to Mir2: The Legend Continues, "Undead Unleashed", which brings an all-new horde of monsters, items and a terrifying new boss to the ever-expanding world of Mir2.
The new dungeon, the Ancient Ruins, is an all-new area set in a perilous jungle, where an ancient evil has awakened, and awakened the dead throughout the land. Players must rally their friends and venture to the cursed land to battle the evil overlord to end the threat once and for all. Adventurers will be assisted with all new weapons and armor, tools they'll need to battle 11 new undead beasts, and a never-before-seen boss. This dual-danger environment is sure to keep players on their toes.
With four diverse classes, 400 monsters and over 500 maps, the growing base of Mir2 players are enjoying the vast, immersive game world, with both PvP and PvE content, mixed with classic gameplay for the old-school gamer.
Aspiring warriors are encouraged to sign up at http://mir2.gamepotusa.com
About Mir2: The Legend Continues
Mir2: The Legend Continues (Mir2) is a Free to Play Massively Multiplayer Online Role-Playing game (MMORPG) , originally developed by Korean Company WeMade Entertainment Co. Ltd. As the first generation MMORPG, Mir2 is continuously loved by over 200 million gamers worldwide with a stunning record of 710,000 concurrent players. Mir2 provides a wide variety of gameplay, from player versus environment, player versus player, guild battles, guild castle wars, individual challenge rooms, dungeons, and more.
About Gamepot (USA), Inc.
Gamepot (USA), Inc. is the U.S. publishing division of Gamepot, Inc., one of Japan's top gaming firms. Opening its Los Angeles office in August 2008, Gamepot (USA), Inc. is dedicated to providing the best games free of charge, and invites all players to "Taste the fun". Gamepot has a full course meal of fun, fulfilling games slated for North America and beyond. For more information, please visit http://www.gamepotusa.com
For more information on MIR 2, please contact Sheloman Byrd @ press(at)gamepotusa(dot)com
# # #