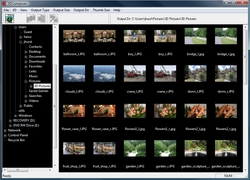 3D photographs provide an engaging viewing experience, and 3D creates new possibilities for photographers at any skill level.
Durham, NC (PRWEB) November 22, 2010
3DMedia Corporation recently released version 2.0 of its PC software product, 3DComposer. 3DComposer is a tool that allows users to create 3D photos using their existing digital cameras. These 3D photos can be displayed on 3D-capable computer monitors or TVs. 3DComposer is designed to be very simple to use, so even novice photographers can easily create 3D images. "We believe giving consumers the power to create their own 3D content will inspire them to embrace 3D technology," said Jason Hurst, General Manager of PC Products at 3DMedia. "This release underscores 3DMedia's continued commitment to delivering the highest quality 3D creation technology." A free trial of the 3DComposer software can be downloaded at 3dcomposer.com.
3D TVs and PCs are arriving in the market in greater numbers, but many potential buyers find the limited 3D content that is currently available to be a deal breaker. The number of 3D movie titles available on Blu-ray is still fairly small, and there have been only a few 3D broadcasts. Converting 2D content to 3D has been unsatisfying for many viewers due to the relatively poor image quality. Although video provides the ultimate 3D experience, personal 3D video will take years to reach target quality levels. However, consumers can create high-quality, fully immersive 3D today via 3D photography, which has generated a surge of interest. "3D photographs provide an engaging viewing experience, and 3D creates new possibilities for photographers at any skill level," said Hurst. "Creating high-quality 3D pictures gives people another way to enjoy their 3D HDTV or PC, and is possible even using standard cameras." 3DMedia's technologies can also be licensed for incorporating into consumer electronics devices such as cameras, mobile phones, and HDTVs to create 3D-capable products. 3DMedia offers technologies that can be embedded in cameras to make the process of taking 3D pictures even easier. Enabling consumers to create 3D content using their existing cameras will help to quickly generate large amounts of content and further solidify 3D as the preferred way to view images and videos in the future.
Version 2.0 of 3DComposer includes many additional features and enhancements. It now comes packaged with 3DMediaViewer, which is a PC application that allows users to view 3D photos created with 3DComposer on their 3D-capable monitors. 3DComposer can now create 3D image files in MPO format for compatibility with some HDTVs and other viewing applications. 3DComposer version 2.0 includes advanced 3D creation capabilities that improve the quality of the 3D experience.
About 3DMedia:
3DMedia Corporation develops technologies to create, view, and distribute 3D content. 3DMedia's technologies address the problem of 3D content generation, which is by all accounts the biggest obstacle to consumer adoption of 3D. These 3D technologies are available for licensing and incorporation into consumer products such as cameras, mobile phones, HDTVs, and PCs. By providing users with the means to experience and control high-quality 3D content, 3DMedia's technologies are a key enabler for the proliferation of 3D products in the consumer market. For more information, visit 3dmedia.com.
Media Contact:
Jason Hurst, General Manager of PC Products
3DMedia Corporation
919-433-9000 ext9017
3dmedia.com/contact
# # #