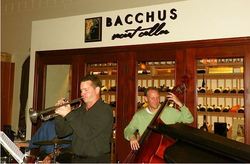 StandUp On The Vine brought in more than $2,600 and 50 attendees.
Irvine, CA (Vocus) November 19, 2010
Sunday evening California State University, Fullerton students held a wine tasting charity event at Bacchus' Secret Cellar in Irvine on the behalf of STANDUP FOR KIDS, to benefit the more than 26,000 homeless youth living on the streets of Orange County. StandUp On The Vine brought in more than $2,600 and 50 attendees. All proceeds from the event will go towards building a transitional living center for the homeless youth of Orange County. Owners of Bacchus' Secret Cellar, Jeff and Valerie Roos generously donated an additional 50 percent of ticket sales to STANDUP FOR KIDS.
During the evening, there was live jazz performance by the Ryan Rost Quartet. Included in the quartet was pianist Kei Akagi, who worked with Miles Davis. The band donated their time and talent for the evening. Nine donated items, including Anaheim Duck Hockey tickets, spa packages, restaurant gift certificates, and jewelry, were raffled off, bringing in nearly $200 on its own.
The menu included four choices of red and white wines, two choices of beers, and a variety of non-alcoholic beverages. Appetizers included cheese and crackers, dips, fruit and an assortment of desserts.
At 7:13 p.m. a candle light vigil was held in honor of the 13 kids that die on the streets every day. Among the attendees were volunteers, friends and family of the organization and wine enthusiasts throughout the community.
Thus far, STANDUP FOR KIDS has raised approximately $49,000 out of the more than $380,000 needed for the transitional living building. The building will provide the youth with supplies, counseling services, a drop in center, transitional living housing, and a central meeting location for the organization.
To donate to STANDUP FOR KIDS visit http://www.standupforkids.org/orange%20county/.
Founded in 1990, STANDUP FOR KIDS is a national nonprofit organization dedicated to improving the lives of homeless and at-risk youth by providing them with access to health services, life skills training and basic necessities such as food, clothing and shelter. Visit standupforkids.org for more information.
###