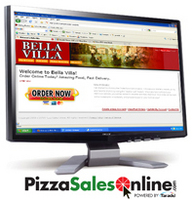 PizzaSalesOnline.com makes selling pizza easier, faster, and more convenient than ever before.
Glen Allen, VA (PRWEB) November 19, 2010
Richmond, VA based Taradel LLC announced today the launch of PizzaSalesOnline.com, a turnkey online pizza sales platform designed to help independent pizzerias compete with the national chains in the rapidly growing online market. The eCommerce solution empowers small business owners with the ability to sell takeout and delivery food online while building valuable in-house marketing lists.
Jim Fitzgerald, President and CEO of Taradel, is well-known for his ability to provide independents with access to the same innovative sales and marketing tools used by national chains - at a fraction of traditional costs.
"This is a perfect fit for us. As print menu designers we already possess the digital assets required to produce an online ordering site for our clients. We simply re-purpose existing graphics and pricing information."
With thousands of active restaurant accounts, Taradel has established strong positioning within the restaurant industry. The introduction of PizzaSalesOnline.com provides both new and existing clients with the ability to sell pizza online almost immediately.
"The bottom line is that pizza operators need to start selling online as quickly as possible to maintain and grow existing market share while maximizing their profitability. PizzaSalesOnline.com makes selling pizza easier, faster, and more convenient than ever before," added Fitzgerald. "Pizza sales are largely based on convenience and nothing is more convenient than ordering online."
According to research by a leading national chain, the average online pizza order size is 18% to 25% higher than a comparable offline order. According to the study, consumers spend more time browsing, customizing, and learning about combination offers than when placing orders by phone. The online experience increases profitability, reduces order errors, and adds value through heightened security and convenience.
According to a recent Papa John's press release, the company has exceeded $2 Billion in online sales this year, more than double their online sales from 2008. With a booming online pizza market, Taradel's latest venture, PizzaSalesOnline.com, has the company poised for substantial growth.
###