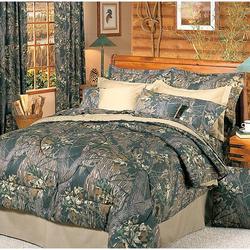 Bring the hunting spirit home with you with free shipping from CamoTrading.com.
Jenks, OK (PRWEB) November 19, 2010
On Friday Camo Trading, an online retailer specializing in camouflage home décor, announced that in conjunction with the start of firearm deer season, the store will offer free shipping on all orders over $99. Deer hunting season begins around November 20 in most regions of the country.
The store carries camo home décor and gifts designed to appeal to hunters and outdoor lovers and their families. Camo Trading's home furnishings selection includes hunting light fixtures, Mossy Oak Bedding and general Camo Bedding. The store also carries a variety of camouflage gifts and accessories, including, among other items, footwear, dog collars and a popular line of lingerie and swimwear. The goal of their inventory is to provide camouflage novelty items that also serve as quality functional pieces.
With the offer of free shipping, Camo Trading hopes to give a little recognition to the wives and girlfriends of hunters. Hunting season might have their men in a frenzy gathering ammo and equipment. Camo Trading hopes to supply "hunting widows" with accessories, home décor and apparel to make deer season fun for them as well.
Launched in March of 2009, Camo Trading is owned by Black Forest Décor, LLC, a leading mail order catalog and Internet business specializing in décor, lighting and bedding with an emphasis on cabins and lodges. The free shipping offer can be obtained by using coupon code MDCFR at checkout and is valid through midnight Monday, November 29.
About Black Forest Décor
Black Forest Décor is a leading mail order catalog and Internet business specializing in high-quality cabin décor, rustic bedding, bear and moose décor, and specialty lighting products for homes and lodges. Their warehouse and in-house call center are located in Enid, Oklahoma, and their marketing and corporate offices are in Jenks, Oklahoma. The company has been highlighted in several publications such as Log Home Living, Country Living and Cabin Life. Additionally, their merchandise has been featured on several television shows including The Today Show, Trading Spaces, Extreme Makeover: Home Edition and Designing for the Sexes. For more information on Black Forest Décor, visit http://www.blackforestdecor.com.
###