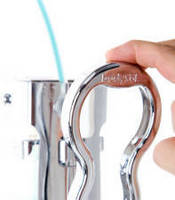 Finally, after millenia of the same old routine, bödysöf offers a better way to shower.
New York, NY (PRWEB) November 22, 2010
After nearly 20 years of design, iteration and development, start-up bodysof LLC plans to change the way people shower with their first product: The Original bödysöf. This unique device transforms your shower water into either a foamy mixture of cleanser and water or a silky mix of moisturizer, all with an optimal pH balance and at a rate adjusted by the user on a speed-valve.
"It's very easy and intuitive to use. Just lower the handle when you want cleanser, and you are instantly covered in cleansing foam." says bodysof LLC Director of Customer Relations, Dan Craig. "The first few times you use it, you will want to stay in the shower a bit longer to experiment with the settings. But once you get a speed setting that you like you will stand there saying, 'I'm done already?'"
The bödysöf is also claimed to help keep showerhead interiors clean. A study released in 2009 concluded that "showerheads may present a significant potential exposure to aerosolized microbes, including documented opportunistic pathogens." (University of Colorado study)
In correspondence with bödysöf, Distinguished Professor Pace, the lead author of the University of Colorado, Boulder study stated in part: "I would guess that introduced detergent (by bödysöf) would at least retard and probably prevent much biofilm build-up."
With its debut, bödysöf hopes to get itself established in the large and growing skin care and shower accessory markets. There are several multi-national and multi-million dollar specialty retailers that focus on skin care products: The Body Shop (Sales $690m in 2008, with 2,550 stores in 60 countries.); Crabtree & Evelyn ($100m revenue across 100 stores); and Bath and Body Works (Sales $2,556m in 2007 with 1,600 stores).
To promote its launch , bödysöf is accepting entries for a video contest. All of the rules can be found on the bödysöf Video Contest web page. The grand-prize winner gets $1,000 US while the top three entries will receive free products. Finalists are determined by the number of 'views' the entries garner on YouTube, and bödysöf judges will decide who the winners are.
The Original bödysöf is now available on Amazon.com for US customers, or on The Original bödysöf website (http://www.bodysof.com) for US & international customers.
The Original bödysöf is available in three different models. Two are crisp white ($70 and $79 respectively), and one is a stylish, thick chrome ($140). The 'White-Multipurpose' and 'Chrome-Multipurpose' models work with just about any liquid cleanser or moisturizer (as long as there are no solid particles or 'exfoliants' in the mixture). The 'Thick-White' model is for thicker shower gels only. More details can be found on The Original bödysöf website (http://www.bodysof.com).
###