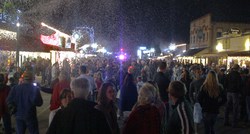 "My husband and I love the snow and the Christmas music, and my kids love the kettlecorn and trackless train!"
Boerne, TX (PRWEB) November 22, 2010
On November 26th & 27th, and December 3rd, the Boerne Texas Main Street twinkles with thousands of lights. Just 20 minutes north of San Antonio, who would guess that snow is absolutely, positively guaranteed for 3 evenings this year? The shops are open all day, but the magic begins as the sun goes down and the streets close to vehicles from 5 to 10 p.m. Snow will fall every hour on the half hour at 8 locations on historic Main Street. Three stages scattered throughout the downtown are booked full of choirs, bands, ensembles, dance troops, and soloists.
Santa will be in the gazebo at the City Plaza to get those last-minute gift suggestions. Families are encouraged to bring camera and take their child's photo, but there will also be a photographer on duty each night for a more professional photo. The kids will love the facepainters, storytelling, fire jugglers, trackless train, petting zoo, and pony rides. With 3 stages filled to the brim with entertainment, horse and carriage rides, and snow flurries on the streets, there is something for everyone in Boerne, Texas. Gingerbread houses will be on display from the decorating contest, and pets dressed in holiday finery will strut their stuff in front of the crowds gathered for the popular lighted night parade on Dec. 4th. The grand finale of the parade comes when Santa appears on the firetruck and takes his place in the gazebo to greet the kids.
Always a highlight is the performance by the Boerne Village Band, the oldest continuously playing German band outside of Germany. The band was formed in 1860, and some of the current musicians are descendants of the original founding members. Boerne Village Band has been honored by the State of Texas and by the Republic of Germany. They will play twice during the 4 nights of the festival.
Canned goods, jars of peanut butter, or other non-perishable items will be collected in boxes located at several downtown retail stores to benefit the local food bank.
For more information, please visit the website at http://www.dickensonmain.com, and follow the event this year on Facebook. A short video clip of last year's festival can be seen by searching Dickens on Main 2009 on YouTube.
###