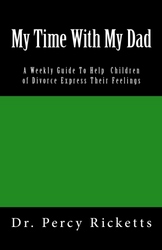 Many children prefer to express their feelings about divorce in writing, rather than talk to their parents directly about this very difficult subject. Journals with special guides, are useful tools that can help children express their feelings in writing.
Miami, FL (PRWEB) November 22, 2010
Divorce is a major life stressor for many adults and their children. Studies show that several decades following divorce, some adults are still angry and they are still having trouble moving on with their lives. Adults may eventually overcome some of the major challenges that they initially faced when their families broke up. However, for children, the pain and the trauma that often follows divorce can last a lifetime. Studies show that few children get any help following their parent's divorce and many parents do not even have a conversation with their children about the divorce before the family separates. Moreover, children do not like to tell their parents how the divorce is affecting them, because they believe their parents might feel hurt . Notwithstanding, many children are willing to keep a journal. They will put their feelings in writing and they are often more willing to discuss what they wrote at a later time.
Psychotherapist, Dr. Percy Ricketts of Pembroke Pines, Florida, has been working with separated and divorced parents and with children of divorce for many years. He has a working knowledge of many of the challenges that both divorcing parents and their children face, and he has developed a number of resources, which can help them adjust much better during the divorce and afterwards. Dr. Ricketts's latest project includes two new, special journals for children of divorce (My Time With My Mom and My Time With My Dad). These special journals are designed to help children of divorce express their feelings regarding the times that they spend with their moms and dads, and they are most effective when used in pairs. My time with my mom and My time with my dad, should remain at the respective parent's home. The child simply makes an entry in the journal each week, based on the simple guides and the instructions that are included. He/she then leaves the journal in a place that they and their parents agreed on. After the child leaves, the parent simply reads the entries. Any concerns uncovered are discussed with the child when he/she returns. They both then decide what changes need to be made. When used as intended, this system could serve as a very effective communication tool, which could also be of tremendous benefit towards improving parent-child relationships. The journals make a great gift for the holidays, and they are an excellent way to start the New Year. To purchase copies of My Time With My Mom and My Time With My Dad, please use the following links:
My Time With My Mom - https://www.createspace.com/3498541
My Time With My Dad - https://www.createspace.com/3498913
Dr. Percy Ricketts is a Licensed Psychotherapist, National Certified Counselor and Divorce Consultant, who operates a private practice in Pembroke Pines, Florida. In addition to counseling, he teaches parenting classes, which are a requirement for divorcing parents in the state of Florida and he facilitates special groups for children of divorce using the internationally acclaimed Sandcastles and other approaches. The Sandcastles program is also a requirement for divorce in many Florida counties and in many other states. Dr. Ricketts is a graduate of Virginia Tech, Nova Southeastern University and Argosy University, and he has a Master of Science Degree in Mental Health Counseling and a Doctorate in Counseling Psychology. He has written several books on fatherhood, parenting, marriage and divorce, which are available at various online bookstores including amazon.com and bn.com. Further information on the many services that Dr. Ricketts offers, is available at his web site: http://www.divorceclass.info.
###