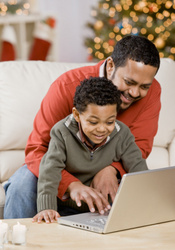 Tech Support For Dummies experts are standing by 24/7 to get your new gadgets setup in no time and make sure everything is running smoothly. Now you can truly enjoy your products out-of-the-box.
Mill Valley, CA (PRWEB) November 22, 2010
With electronic gifts topping most wish lists this holiday season, millions of consumers are expected to spread the joy with iPads, e-readers, gaming devices, digital cameras and more. This December, the average spend on tech gifts is projected to hit an all-time high of $232.00 per gift giver*.
After the initial gadget excitement has passed, the daunting task of setting up these new devices can easily turn holiday cheer into holiday tears. The experts at Tech Support For Dummies™ – the affordable, LIVE, 24/7/365 personal help desk support service that delivers on the "For Dummies" pledge to make everything easier – suggest following a few simple tips to prevent electronic-induced breakdowns to ensure a festive e-holiday.
Top Tips for e-Holiday Gift Giving:

Order Early! Don't wait until the last minute to get the perfect gadget or gizmo as popular items tend to sell out early in the season. If you wait too long, the item could be gone!
Open, Battery and Test! Don't be concerned about being rude by opening the box before you give the gift. It is more thoughtful to open, battery and test the item, making sure it works, so the gift can be enjoyed as soon as it's unwrapped.
Wrap it Up with Tech Support! If you're giving a technology gift, avoid Christmas day tears and frustrations by also giving your loved one three months of 24/7 access to professional one-on-one technical support for just $19.99.
Tech Support For Dummies is now offering a limited-time holiday support special. Using the code HOLIDAY CHEER, folks can now take advantage of three months of unlimited access to a personal technologist for only $19.99.
What is a Personal Technologist?
While the idea of the latest electronic "must-have" is tantalizing, integrating each new gadget into your life is an increasingly daunting task.
"It's possible to do your own taxes, cut your own hair or self-service your car, but today, most people recognize the benefits of working with an expert," said Mark Harter, CEO, 4D Global Partners/Tech Support For Dummies. "Technology is no different. Tech Support For Dummies experts are standing by 24/7 to get your new gadgets setup in no time and make sure everything is running smoothly. Now you can truly enjoy your products out-of-the-box."
Simplified in the "For Dummies" way, a "personal technologist" can provide straightforward solutions for even the most complex tech issues. Conveniently delivering services over the phone, online chat or email, personal technologists from Tech Support For Dummies are available around the clock, 365 days a year to help with hardware, software, wireless networks, DVRs, MP3 players and much more.
Tech Support For Dummies Holiday Promotion
In addition to being the easiest, most reliable service of its kind on the market, during this holiday season, customers can get unlimited help from a personal technologist for three full months for only $19.99 using the code HOLIDAY CHEER. Simply enter this promo code when you sign-up today at http://www.techsupportfordummies.com/holiday or call 1-866-593-5418. Easy to use and available for unlimited phone, remote and email support, Tech Support For Dummies is your one-stop help center for any e-holiday gift. From PC's and printers to digital cameras, iPads, e-readers and gaming devices, a personal technologist can help to get the most out of any device, leaving holiday revelers to enjoy their new gadgets for days, weeks and years to come.
About Tech Support for Dummies
Tech Support For Dummies is the easiest, most reliable tech support service on the market, available with a simple phone call 24/7, 365 days of the year. Millions of consumers looking for quality tech support services to keep their technology investments healthy can trust in the service Tech Support for Dummies provides. The most affordable service of its kind, users can take advantage of an entire year of unlimited service for the same price as a single service offering from most other providers. From hardware to software, wireless networks to DVRs and MP3 players and much more, Tech Support for Dummies offers solutions in the simplified For Dummies way. Many things can go wrong with your computer. Now, simple solutions are just a phone call away.
About For Dummies®
After nearly 20 years and with more than 200 million copies printed, For Dummies is the world's bestselling reference series, well known for enriching people's lives by making knowledge accessible in a fun and easy way. Loyal customers around the globe agree that For Dummies is "more than a publishing phenomenon … [it is] a sign of the times," [The New York Times]. The books span every section of the bookstore, covering topics from health to history, music to math, sports to self-help, technology to travel and more. The For Dummies brand presence is further expanded with the addition of eBooks, a corporate custom publishing program, a robust consumer website and a licensed product line that includes consumer electronics, culinary, crafts, video, software, musical instrument packs, home improvement, automotive, game and more. For more information, visit http://www.dummies.com. For Dummies is a branded imprint of Wiley.
About 4D Global Partners
4D Global Partners, LLC (4DGP) is a product development, sales and marketing firm focused on technology products and services for consumers and small businesses. The company develops and markets products via internationally recognized and trusted brands. The company is headquartered in Mill Valley, California. For additional information about 4D Global Partners, please visit http://www.4dgp.com and http://techsupportfordummies.com.
*CEA's 17th Annual CE Holiday Purchase Patterns Study
Press Contacts:
Eugene Kim
Director of Marketing
4D Global Partners/Tech Support For Dummies
ekim(at)4dgp(dot)com
Eric Holmgren
Assoc. Director of Publicity
Wiley
eholmgre(at)wiley(dot)com
APCO Worldwide for
Tech Support For Dummies
Taylor Patterson
202.778.1074
tpatterson(at)apcoworldwide(dot)com
###