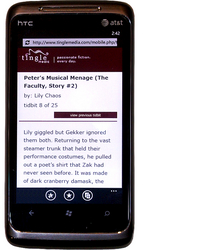 ...with a touch of creativity and bit of technology, I could make a difference and help women find a way to keep their lives full of romance and eroticism.
Seattle, WA (PRWEB) November 22, 2010
Tinglemedia.com, an innovative women's erotica website and service was launched today by cofounder and proprietress Scarlett James in Seattle. The site enables readers to receive erotic stories that are delivered via mobile text in small chunks, or "tidbits", on a daily basis. Unlike other published or digital content, TingleMedia sends the tidbits to its readers, helping them steal a few discreet moments of pleasure in the midst of their busy days. The stories are written by a range of professional to amateur authors who are also members. The website is the first of its kind in the world.
Tinglemedia.com was born out of Scarlett's desire to help women regain their sensuality. "Looking around me I saw too many accomplished, vibrant women letting their sensuality fall to the end of long lists of responsibilities," says Scarlett, "Jobs, careers, home ownership and parenting are all important activities that require a lot of time and energy. Watching so many of my friends give up and accept that there is just no time for sensuality was painful for me. I realized that with a touch of creativity and bit of technology, I could make a difference and help women find a way to keep their lives full of romance and eroticism."
TingleMedia is unique in that Scarlett is the persona of the site. It is a reflection of her. In her inimitable style, she encourages, coaches, and teases her readers into igniting their passions, trying something new, and indulging themselves in a few discreet moments of passionate reading. "I am on a mission to spark a sensual revolution," she notes provocatively. And she provides several new and interesting ways on Tinglemedia.com for her readers to help do that.
Stories range from playful and innocent to steamy erotica as rated on a temperature scale. Readers can find stories in traditional ways such as browsing by genre and searching. TingleMedia also provides an insightful new way for readers to browse for stories they like. In her research, Scarlett discovered that women look for characters they can identify with when choosing romance and erotica stories. She makes it easy for her readers to do that by providing pithy character descriptions such as "bad because she wants to be" and "looking for the one who wears the glass slipper."
Readers can purchase tokens for stories at a cost of $6.90 USD for 10 tokens. One token is good for one story. Stories can be between 2000 to 8000 words and according to Scarlett, can have up to 25 "delicious tidbits that are just the right size to read on the go or in between activities". Readers choose stories for their story queue and then based on a schedule they determine, Tinglemedia.com sends the tidbits to their mobile device. Each time they consume a new story, one token is used. Readers can also write reviews of the stories and provide their own star and temperature ratings.
TingleMedia encourages all writers of any experience level to participate in this unique new use of written content. Contributing writers retain full rights to their content and earn a commission based on the number of readers of their stories. Commissions are a generous percentage compared to traditional and digital publishing.
"The tantalizing tales you will find here give women a little something to think about every day, says Scarlett, "I see a woman in line at the grocery store. Her phone tells her that her little tidbit has arrived. She is already thinking, already a little more aroused than she was a few moments ago, already more fully woman."
New users can see how it works and try TingleMedia by sampling a complimentary trial story. For more information, visit http://www.Tinglemedia.com.
###