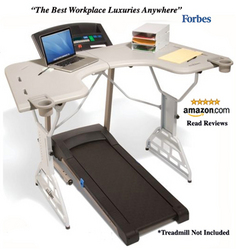 My back feels better, energy level is higher and my productivity is up. Only complaint I have is that I wish I had one 20 years ago!
Phoenix, AZ (Vocus) November 21, 2010
TrekDesk Treadmill Desks, a Phoenix company completing their first year of sales, has received favorable reviews on national and regional radio and television stations around the country. Spotlighted for its value and health benefits by Fortune and U.S. News & World Report, the reviews from Arizona office and home users who use the TrekDesk on a daily basis have also been excellent.
RM, a corporate user for a Fortune 500 company housed at the Camelback Esplanade in Phoenix offered a descriptive glimpse into the value of the TrekDesk:
"I have had lower back pain for over 20 years and feel it gets worse by sitting all day. My company has a corporate wellness program and has been promoting "walking meetings", so when I learned about TrekDesk, I figured why not walk at my desk? I work for a commercial real estate company and in our environment, we are all in cubicles. There are 16 cubicles in my work area, so I was curious as to how my cube mates would react to my new setup. The treadmill is quiet and has not disturbed anyone in my area. Have also found that walking at approximately 1.5 mph is not a problem at all. Have settled into a program where I walk all morning and generally 2 - 3 hours in the afternoon. My back feels better, energy level is higher and my productivity is up. Only complaint I have is that I wish I had one 20 years ago!"
RA of Queen Creek, AZ appreciates the time saving aspects of walking while working. "Great invention! I don't even notice I'm walking while I'm working! Never had time for the gym, and now I've had to buy a smaller belt! It's amazing! "
"The reviews TrekDesk is receiving speaks volumes as to the effectiveness of walking while working. Our mission is to start a 'Movement Revolution', convincing Americans that movement throughout the day will dramatically improve their health, mood, weight and productivity. These reviews help ignite the conversation," stated Steve Bordley, CEO of TrekDesk.com.
DN, a retail owner in Phoenix, AZ who always dreaded the idea of treadmills, received her TrekDesk as a gift from her husband originally. "I thought it was bizarre at first but it has been a life saver for me. It is a really big space and I have everything, phone, printer and computer right here in easy reach. I can get all of my work done and I also got a mile or two in, maybe three and it doesn't feel like you are on a treadmill."
Designed to fit any existing treadmill, TrekDesk is an affordable, full sized workstation that allows individuals the opportunity to gain the necessary amount of exercise daily to maintain health, prevent disease, strengthen muscles, boost mood and productivity, without requiring additional time during the day or extra motivation.
TrekDesk is currently available for sale online at TrekDesk.com for $479.00 including free shipping.
Join the TrekDesk "Movement Revolution" to learn more on TrekDesk's Facebook page at http://www.facebook.com/pages/TrekDesk-Treadmill-Desk/80743563805.
For press requests desiring interviews with the customers mentioned in this release (or other Arizona TrekDesk users) please contact us at info(at)trekdesk(dot)com.
###