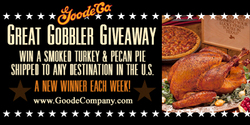 Houston, TX (PRWEB) November 23, 2010
To celebrate the launch of Goode Company's online smoked meat business, Goode Company announced the Great Gobbler Giveaway, where weekly winners will be selected at random to receive a Mesquite Smoked Turkey and a Brazos Bottom Pecan Pie. Goode Company's Online Smoked Meats Store now offers online ordering and nationwide shipping of its famous smoked Turkey, Brisket, Ribs and Sausage.
Drawings will take place starting November 24, 2010 and finish on December 15, 2010. Participants can enter online at http://bit.ly/GoodeCo. After registering, entrants can Tweet #GoodeGobbler to earn additional chances to win (limit of five tweets per day).
Since 1977, Goode Company has produced some of the best Mesquite Smoked Barbeque in The State of Texas. Over the years, countless memories have been made, special occasions celebrated and business deals closed over a plate of Goode Company Barbeque. The unique nature of this food brings people together in a way that's hard to describe but easy to understand.
Goode Company has earned a reputation for doing things the right way by using time honored techniques, handmade preparations and quality ingredients that showcase the rich cooking traditions of Texas.
# # #