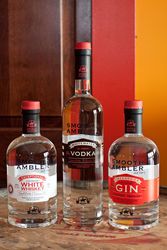 Maxwelton, WV (PRWEB) November 23, 2010
This holiday season, gift givers and party hosts have something new to celebrate: the debut of Smooth Ambler Spirits and its premium cut, small-batch vodka, gin, and white whiskey. Now available online at http://www.benashliquors.com, Smooth Ambler Whitewater Vodka, Greenbrier Gin, and Exceptional White Whiskey offer holiday merrymakers a smooth, distinctive taste born of thoughtful craftsmanship and hand-selected ingredients. Each 750ml bottle available at Benash Liquors online is priced at $34.99 plus shipping, and gift messages can be sent with purchase.
Each of Smooth Ambler's artisanal spirits is crafted using the foundational elements for a bourbon recipe, a master distiller's blend of corn, wheat, and malted barley. This non-traditional approach to creating "white" spirits like vodka and gin produces a notably distinct taste, with a smooth finish that upholds its namesake.
Hand-crafted care is devoted to every single bottle that leaves the 5,200 square-foot distillery, with each one personally signed and dated by its bottler. A family business with deep roots in the community, the distillery often invites the local townspeople – and visiting tourists – to participate in "Bottling Days" that result in new cases of Smooth Ambler being shipped to fine liquor stores and dining venues/bars throughout West Virginia, Ohio, Virginia, and Washington DC.
Founded in 2009, Smooth Ambler Spirits introduced its first batch of vodka in April of 2010, with gin and whiskey following shortly thereafter. The distillery was founded by West Virginia native Tag Galyean, the master architect and spa designer known for luxury hospitality design at famed resorts such as The Broadmoor (CO), The Greenbrier (WV), Hotel Hershey (PA) and Turnberry Isle (FL). Tag's longtime colleague and son-in-law, John Little, leads the Smooth Ambler team as chief distiller. Smooth Ambler will debut its first bourbon batch in April of 2011, which is lovingly aging in small barrels at this very moment. For more information, visit the distillery online at http://www.smoothambler.com and http://www.facebook.com/smoothambler.
###