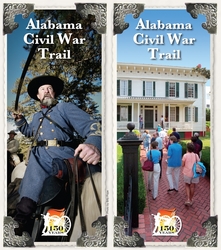 The brochure is ready for next year's 150th anniversary of the Civil War
Montgomery, AL (Vocus) November 23, 2010
(Vocus) November 23, 2010 -- Alabama's Civil War sites, attractions and battle re-enactments are showcased in a new brochure created by the state tourism department.
Forty-seven attractions and sites along with the history, location and contact information for each are listed in the publication. A few of the sites include the state capitol and First White House of the Confederacy in Montgomery, Popes Tavern in Florence, Old Live Oak Cemetery in Selma, Fort Gaines on Dauphin Island and Fort Morgan in Gulf Shores. Fourteen battles are listed including the Battle of Selma, Battle of Mobile Bay, Siege of Bridgeport and the Tannehill Skirmish.
The brochure also provides details of Alabama's 18 largest Civil War battles that include dates of the 14 annual re-enactments. The sites and re-enactment events appear as numbered icons on a state map on the back to make it easy for visitors to plan a trip along the trail.
An actor portraying a confederate soldier on horseback during the re-enactment of the Battle of Selma appears on the front cover, while the First White House of the Confederacy is featured on the back of the brochure.
"The brochure is ready for next year's 150th anniversary of the Civil War," said director Lee Sentell. "This brochure really tells the story of Alabama's Civil War history and packages it so that visitors can easily create their own experiences."
The Civil War Trail brochure shows and tells the story of each of the five historic flags of the Confederacy on display at the Alabama Department of Archives and History in Montgomery. It also contains dozens of photos from reenactments to homes and battle sites.
The sesquicentennial of the Civil War is one of three historical periods in state history being observed 2011 through 2015 under the "Becoming Alabama" campaign. Under this banner, the state is also promoting the bicentennial of the Creek Indian War and the 50th anniversary of the Civil Rights Movement.
The brochures are available at the eight welcome centers across Alabama, at the Alabama Tourism Department office at 401 Adams Ave., Montgomery or by calling 1.800.ALABAMA (252.2262).
###