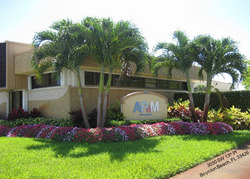 The addition of Allied's Capital Spares Division expands AP&M's capabilities into the heavy duty gas turbine market, including both hot gas path parts and consumable parts
Boynton Beach, FL (Vocus) November 22, 2010
Aviation, Power & Marine, Inc. ("AP&M") today announced it has acquired the assets of the Capital Spares Division of Allied Power Group, LLC, a Houston, TX-based provider of repair services for heavy duty industrial gas turbine ("IGT") engines.
"The addition of Allied's Capital Spares Division expands AP&M's capabilities into the heavy duty gas turbine market, including both hot gas path parts and consumable parts" said Jim Walsh, President of AP&M. "We have long been recognized as the premier independent distributor of parts for aeroderivative gas turbines. This acquisition enables AP&M to offer a comprehensive solution for our customers who operate not only aeroderivative IGTs but frame IGTs as well. It is a natural extension of our core business, and dovetails with our rapidly growing 'supply chain program' approach to inventory management."
In addition to the expansion of its parts offering, AP&M announced that Michael Elliott, former Executive Vice President with Allied, has joined AP&M as Vice President. Elliott brings a wealth of industry experience and knowledge with him, and will further strengthen AP&M's fine management team.
Aviation, Power & Marine is the largest worldwide independent distributor of aeroderivative gas turbine engine parts. As a stocking distributor of over 14,000 parts, AP&M provides internal and external engine parts as well as package parts to operators in a variety of end markets: electrical utility and power generation; naval propulsion; and oil and gas exploration and transmission. AP&M also supplies parts to a variety of gas turbine repair facilities.
Pfingsten Partners, L.L.C., an operationally focused private equity firm based in Chicago, Illinois, is the majority shareholder of AP&M. Financial terms were not disclosed.
CONTACT:
Jim Walsh
President
Aviation, Power & Marine, Inc.
Phone: (561) 742-1680
JWalsh (at) apm4parts (dot) com
###