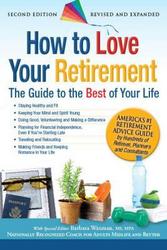 (PRWEB) November 30, 2010
Publisher Hundreds of Heads releases today its second edition of the popular book How to Love Your Retirement, specially edited by Barbara Waxman, the nationally recognized coach for adults, midlife and better. The latest book in the Hundreds of Heads Survival Guide series is the most comprehensive collection of advice from real people about how they deal with the various aspects of retirement, and what they have done to get the most out of it.
According to Barbara Waxman, the conventional notion of retirement should be retired, as the large wave of more than 70 million Baby Boomers is redefining its meaning. Boomers are approaching this life stage with the same zeal as they did their youth and are making retirement an opportunity to begin a new and exciting phase. Over the course of the next couple of decades, retirement will be viewed as some of the best, most productive and rewarding years of life.
But the opportunities this time offers also brings with it the challenges and anxieties of answering the questions of this modern retirement. The book How to Love Your Retirement serves to answer those questions, ranging in subjects from financial to interpersonal relationships to health, such as:

Knowing if and when you are ready to retire
Planning for financial independence (even if you are starting late)
Traveling and relocating
Learning to refocus on your spouse (and adjusting to an empty nest)
Identifying new passions/hobbies
Focusing on health as you age
Dubbed 'America's favorite coach for adults, midlife and better', special editor Barbara Waxman explains her inspiration for researching and editing the book: "My passion is working with people for whom the primary tasks of middle adulthood have been completed. Children may have, or almost, been raised, relationships have stayed the course, dissolved, or are on the horizon and career goals have been achieved, have been a disappointment or are still being set. The question we face is, 'what's next?'"
As is the premise of the Hundreds of Heads' Survival Guide series, the best way to answer these questions and many more is to mine the 'hundreds of heads' of real people's hard-earned wisdom and advice. Barbara and her team conducted hundreds of interviews with boomers and older adults, collecting the best advice from them on a range of topics relating to aging and retirement. In addition to the hundreds of regular people interviewed, contributors include experts in the areas of finance, health, career, psychology, education and business.
The book also includes coaching exercises readers can complete to gain further insight into how to apply lessons to their own lives. This ensures readers are asking themselves the right questions and taking all the steps to achieve their retirement-based goals. The book serves both as a quick reference guide and as a workbook.
How to Love Your Retirement is published by Hundreds of Heads, and is available at major books stores, and online through Amazon (http://www.amazon.com), for $16.95. For more information, and to read advance praise and excerpts from the book, visit http://www.HundredsofHeads.com.
About the Special Editor Barbara Waxman
Whether it is coaching clients, giving workshops or inspiring readers through her written work, Barbara Waxman's mission is to reframe retirement as an opportunity to begin a whole new and exciting phase of life, a time she instead refers to as 'pro-tirement'. Barbara is President of the Odyssey Group, an executive and life coaching company for adults, midlife and better. Barbara founded the Odyssey Group in 2005 in order to support exclusively those age 40-plus to maximize their capacity to succeed at home and at work and of course, as they explore the frontier of retirement. Her unique self-developed coaching model, 'Entrepreneurship Turned Inward (ETI) is built upon the knowledge that the most exciting elements of adult development are just beginning at age 40. Her clients are based across all sectors, including real estate, advertising, health care and more. The common theme clients share is that they are
experiencing a transition of some sort and want to do so in the healthiest and most authentic way. Barbara is a certified Executive and Personal Coach through the Hudson Institute of Santa Barbara and is a member of both the International Coach Federation and GILD Coaching Faculty. She also completed a Leadership Development Fellowship from the Wexner Heritage Foundation.
About Hundreds of Heads and Hundreds of Heads Survival Guide Series
The mission of Hundreds of Heads is to create products that help people through life's biggest events. When approaching one of life's major challenges or milestones, it is good to get advice from people who have 'been there, done that', to find out what worked, and what did not, from others in similar situations. Other advice books, no matter how smart their expert authors, are limited to the knowledge of only one person. The Hundreds of Heads Survival Guide series grew out of the simple idea behind that old saying, 'two heads are better than one', and so would not hundreds of heads be even better? Hundreds of Heads sought to do something different – to assemble the experiences and wisdom of hundreds of people who have overcome major life challenges or turning points, and have some insight to share. Dozens of their interviewers (which they call 'headhunters') crisscross the country to interview experienced people to
gather their wisdom and get their opinions and guidance. The resulting guides provide useful, readable advice on stressful topics and life events - including: having a baby, raising a teenager, going through a divorce, or getting married. The Survival Guide series includes best-selling titles, such as How to Survive Your Freshman Year, now in its fourth printing.
This press release was distributed through PR Web by Human Resources Marketer (SeniorCare Marketer: http://www.seniorcaremarketer.com) on behalf of the company listed above.
###