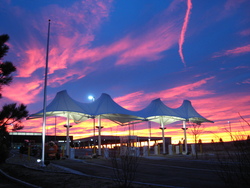 "We're like Mom; we drop you off at the terminal." -Tom Bechard
Littleton, CO (PRWEB) November 23, 2010
Canopy Airport Parking will open at 4 A.M. on Wednesday, November 24. One parker will win free parking for life, and all of Canopy's first 100 guests become Century Club members and receive one year of free parking.
"During the Thanksgiving holiday season, airport parking facilities commonly fill," Karl Kelman, Canopy's marketing manager explained. "But, with over 4,200 new spaces, Canopy will have availability and offers free reservations online. At Canopy, guests are assured they have a space, and can travel with confidence."
"If traveling on Wednesday morning, you must park with Canopy – the first 100 guests visiting Canopy receive free parking for one year," Kelman explained. "They can choose Open Air, Covered Self-Park, or even Indoor Valet parking free for a full year – no strings, no catch – just be one of the first 100 in."
"Canopy is offering a variety of attractive introductory offers because we believe any guest who parks with Canopy once becomes a customer for life," Kelman stated. "Canopy is an exceptional parking facility that one must see to fully appreciate. We offer a level of luxury and convenience that is new to the parking industry."
Canopy Airport Parking, located on Tower Road just North of Pena Boulevard, offers Frontier Airlines travelers 100 Frontier EarlyReturns® bonus miles with every parking visit, a 25% discount on parking rates, or a free upgrade to the next class of parking.
Canopy's multiple green features have garnered attention from the international press, generating articles in publications in the United States, Germany, France, and Indonesia.
About Canopy Airport Parking
Canopy Airport Parking was created by Greenscape Capital and Propark America as a cooperative project. Propark America operates 403 parking facilities nationally, offering custom parking management. Greenscape and Propark collaborated to develop Canopy Airport Parking as a prototype for environmental and efficient practices in the parking industry. Canopy Airport Parking will achieve LEED-certified Gold status and will become a Green Parking Council Demonstrator Site.
###