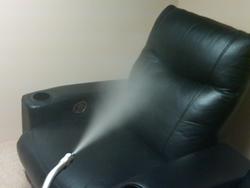 You are more likely to get sick from a germ in your own house than any other source.
Milford, NJ (PRWEB) November 25, 2010
The NJ based SmartTouch™ Sanitizing is a business model which is gaining notoriety as a "National Brand" while stimulating the economy through a unique business concept.
"We call it a business-in-a box, or in other words a non-franchise." We provide the SmartTouch VPA™ spray system, non-toxic disinfectant, co-branded dvd video, marketing material, training and referral network. You provide the ambition. There are no on-going franchise like fees or unseen costs. The entire package can be leased for as little as $200 per month which makes it a viable alternative for those unemployed or looking to generate additional income.
SmartTouch™ Sanitizing is a cold, flu and odor destroying service which is performed by trained, independent technicians. A SmartTouch™ professional quickly and inexpensively treats offices, homes, gyms, schools, and other indoor areas eliminating virus and bacteria from most indoor surfaces without toxic chemicals.
"Our disinfectant is completely non toxic, U.S. EPA Registered and NSF Certified to be safe for all food contact surfaces." Utilizing a specially developed VPA™ spray system, the process is quick and requires no labor intensive hand wiping or rinsing. The disinfectant dries in about 5 minutes as it oxidizes 99.999% bacteria, viruses, and germs on hard and fabric surfaces, 100 times more than store bought sanitizers. The SmartTouch™ System also provides a residual effect for up to 30 days on porous surfaces, 24 hours on contact, hard surfaces.
SmartTouch™ Sanitizing System kills H1N1 Swine Flu, HIV, Hep B and Hep C, MRSA, Staph, E. coli, Salmonella, RSV and other harmfull bacterias, viruses, odors and mildew from hard and porus surfaces.
This service became a perfect add-on for service type businesses who have an existing customer base, such as maid services, residential and commercial cleaning companies, pest control, mold remediation, waterproofing companies, etc. A very low investment and profit margins up to 300% can be realized with minimal training.
SmartTouch™ Sanitizing is a BBB Accredited Business and a member of ARCSI.
For any additional information please contact Carol at SmartTouch™ Sanitizing toll-free at (866)863-4107, ext.1 and visit us at http://www.SmartTouchSanitizing.com
# # #