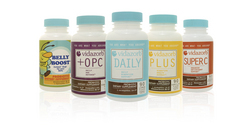 Beltsville, MD (Vocus) November 24, 2010
Each year, the holidays present a bit of a conundrum. We would all like to look our best for parties and gatherings, yet at the same time, we are surrounded by more food and drink than any other time of year. Thanksgiving especially is a heavy eating holiday—with traditional foods that can cause us to bloat. While there may be unwanted pounds that we all would love to shed, the fact is, focusing on feeling better and controlling our bodies may be the overall key to having the utmost confidence this holiday season. The normal gut reaction is perhaps to eat as much food as possible on Thanksgiving and then jump in to a crazy weight loss regimen to fit in to party attire—while fad diets may quickly shed pounds, some can backfire, causing unnecessary binges, stomach upsets and skin breakouts. Instead of going into extreme diet mode, why not make this the year to focus on feeling great and embracing a healthy lifestyle as the best way to be ready for the party season?
Vidazorb® Chewable Probiotics are a delicious, convenient and calorie-free way of keeping the digestive system running smoothly—with less bloating—helping to achieve that better looking body. There is an added bonus for those who often struggle with GI issues during holiday travel, as Vidazorb will help boost the immune system and keep the digestive system in better shape. A belly low in good bacteria can lead to gastrointestinal distress, allergies, autoimmune disease and even skin problems like acne—all of which can feel like a major catastrophe when the body is being covered by only by a little black party dress!
For added confidence this holiday, be sure to make Vidazorb® a permanent fixture on the Christmas shopping list. Since Vidazorb® doesn't require refrigeration, they are easy to throw in a bag and take on-the-go—whether spending a week away on a white sandy beach or just having a day getaway to the local pool.
About Vidazorb®
Vidazorb® represents the development of superior shelf-stable, chewable probiotic formulations to provide essential support for core health needs. Research and development, together with a commitment to quality and efficacy, defines Vidazorb® as a brand of integrity and excellence. For more information, visit http://www.Vidazorb.com. For engaging, kid-friendly probiotic information, visit http://www.Zorbee.com. To learn more about the importance of, and science supporting, probiotics, visit http://www.YouAreWhatYouAbsorb.com.
Vidazorb® can be purchased online at vidazorb.com and drugstore.com
For more information, or to arrange an interview with a company spokesperson, please contact Leesa Raab at ADinfinitum, 212-693-2150 Ext. 314, email Leesa(at)adinfinitumny(dot)com or Beth Hurtubise, 212-693-2150 Ext. 311, email Beth(at)adinfinitumny(dot)com
###