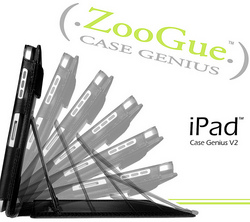 The Best iPad Case Just Got Better!
Laguna Hills, CA (PRWEB) November 24, 2010
With the hundreds of iPad™ cases on the market, customers may feel lost in finding a case that will actually be a solution to the everyday use of the iPad™. Most cases have a couple angles which are ok; however they are unstable and limit your iPad™ experience. The ZooGue V2 Case Genius on the other hand is the only iPad™ case that is adjustable to any angle securely with its ingenious innovative Velcro design. ZooGue simply makes your iPad™ experience limitless at any angle. The ZooGue is cleverly convenient and any person that's tried it buys it. The ZooGue Case Genius is now available at http://www.ZooGue.com.
About Inventor Tim Angel
Tim Angel began developing the original ZooGue™ iPad Case in early 2010. He is guided by his drive to bring new innovations to the industry as a leader and is constantly brainstorming on new innovative products that will propel ZooGue™ to become a household name.
###