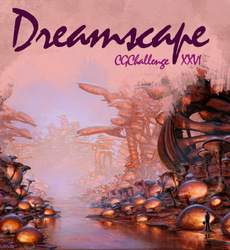 I can state flatly that heavier than air flying machines are impossible.
(PRWEB) November 26, 2010
The CGSociety launches the 26th CGChallenge - 'Dreamscape.'
Digital artists are challenged to delve into the world that lies behind closed eyes. Sleep transports us to a new reality; where realms are conjured from our greatest hopes, deepest secrets or even our darkest fears. Whether it's a dream for a better, more sustainable world; a brighter future powered by technology; or, a surreal landscape populated by the bizarre. Afterall, today's dreams could be tomorrow's reality. Lie back, close your eyes, and enjoy the ride as we leave the cold reality of waking life and enter the Dreamscape.
To help fuel dreamlike artistry, the CGSociety has included inspirational images and words. The following are some amusing contemporary reactions to yesterday's dreams, which are now today's realities:
Predictions from Lord Kelvin, President of the Royal Society, late 1800s and early 1900s:

"I can state flatly that heavier than air flying machines are impossible."
"Radio has no future."
"Wireless [telegraphy] is all very well but I'd rather send a message by a boy on a pony!"
Thomas J. Watson, 1943, Chairman of the Board of IBM:

"I think there is a world market for maybe five computers."
Albert Einstein's teacher to his father, 1895:

"It doesn't matter what he does, he will never amount to anything."
H. M. Warner, Warner Brothers, 1927:

"Who the hell wants to hear actors talk?"
Bill Gates, 1981:

"640K ought to be enough for anybody."
Ken Olson, president, chairman and founder of Digital Equipment Corp., 1977:

"There is no reason anyone would want a computer in their home."
Dreamscape would be a nightmare to organize if not for the brand new CGChallenge engine, which was completely rebuilt from the ground up. Now it is easier than ever to submit WIPs and final images. Take a look at the sparkling new creation here.
Challenge Sponsors:
The CGSociety is very proud to announce the sponsors: MainGear, NewTek, NVIDIA, Chaos Software, Dosch Designs, Luxology, E-On, Pixologic, Maxon, Corel, SideFX, Smith Micro, RocketBox, Evolve 3D, The Foundry, StudioGPU, Gnomon Workshop, ImagineFX, NPower Software, 3D Via, Craft Animations, TopOGun, Evermotion, 3Dcoat, XFrog, Stash Media, ZBrushWorkshops, Digital Tutors, Imagineer System, 3D Connexion, Ballistic Publishing and CGSociety. There's a big list of prizes, which will ensure that the standard will be very high.
Challenge Judges:
This CGChallenge's judging panel includes a heady mixture of veterans and rising stars, who have worked for the likes of: Weta, Framestore, The Moving Picture Company, Blizzard Entertainment, Brøderbund Software, on game and film titles such as 'Harry Potter: Order of the Phoenix', 'The Dark Knight', 'Avatar , 'Inception', 'Diablo II', 'Diablo III', 'The Pan's Labyrinth', VFX Oscar winner 'The Golden Compass', 'The Tale of Despereaux', and 'Clash of the Titans'.
The judging panel consists of: Danny Geurtsen, Caroline Delen, Paul Franklin, David Wright, Michael Dashow, Tomasz Jedruszek, Samuel Poirier, Szymon Biernacki, Juraj Molcak, Mark Snoswel, Leigh A. van der Byl and Anton Fletcher. Entrants will need to dream big to impress these CG luminaries!
The challenge starts now, and both the Image and Video categories are due 22 February, 2011.
Entries must be made in one of the following categories:

Image: Individual
Video: Individual
Video: Team
All entries will also be eligible for any of the following awards:

Modeling
Texturing
Animation
Lighting
Visual Effects
Landscape/Matte Painting
Art Direction
Compositing and Editing
Best Character
About The CGSociety:
The CGSociety is the most respected and accessible global organization for creative digital artists. The CGSociety supports artists at every level by offering a range of services to connect, inform, educate and promote, by celebrating achievement, excellence and innovation in all aspects of digital art. The CGSociety, along with its sister organization Ballistic Publishing, is a division of Ballistic Media.
http://www.cgsociety.org
http://www.ballisticpublishing.com
###