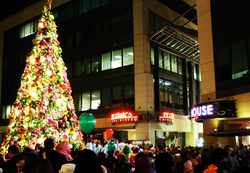 Sherman Oaks, CA (PRWEB) November 26, 2010
Rico Rodriguez (Manny on ABC's Modern Family) and Eva La Rue (Natalia Boa Vista on CBS's CSI: Miami) join Santa on stage to light the Sherman Oaks Galleria Christmas Tree on Wednesday, December 1, 2010, at 6pm as part of the center's annual Tree Lighting Extravaganza.
The whole family will enjoy a magical evening of free entertainment as the Sherman Oaks Galleria transforms itself for the holidays. Starting at 6pm, kids can enjoy arts and crafts, the "Snow Cottage" Bouncer by Fountain Plaza and strolling holiday characters including the Sugar Plum Fairy, Snowman, Grinch, Snow Princess -- joined by a stilt-walking elf and chimney sweep. Galleria merchants will be handing out treats for all guests.
Holiday-hip entertainment begins at 6:30 with "American Honey" and the Millikan Middle School Choir, culminating in Santa's arrival parade and Tree Lighting with Rico Rodriguez and Eva La Rue. The fun continues until 8pm with FREE Santa photos, more holiday music and Sherman Oaks Galleria merchants providing treats and special holiday shopping opportunities.
###