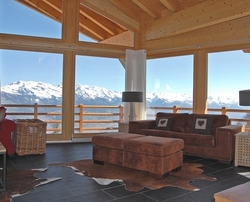 Whether you're planning a ski vacation in the US or want to experience the European Alps this winter, stay in the comfort of your own private residence - and save money.
(PRWEB) November 26, 2010
Average hotel prices at various US and European ski destinations were compared with prices of self-catering chalets and apartments available for rental from SunnyRentals.com. The study assumed that 6 adults would stay in 3 double hotel rooms or one rented self-catering chalet or apartment with a minimum of 3 double bedrooms. Hotel prices were sourced from a leading hotel price comparison website.
When comparing self-catering vacation rental apartments and chalets in Breckenridge, Colorado, it was found that the average cost of 3 double hotel rooms for 7 nights in January was $6,332 - not including extras. By comparison, the average rate for a 3+ bedroom vacation rental chalet or apartment from SunnyRentals.com in the same period was $4,646. The cheapest per night room cost in a hotel was $60 per person compared with $39 per night in a vacation rental apartment.
For European ski trips, the cost differential was even greater. For example, the average cost of 3 double hotel rooms in the Swiss resort town of St Moritz for 7 nights in January was $8,364 compared with an average cost of $3,476 for renting a 3+ bedroom chalet or apartment to sleep 6 adults. In Verbier, the average cost for a hotel stay was $4,411 compared to the $1,973 average cost of renting an equivalent chalet or apartment from SunnyRentals.
SunnyRentals.com CEO, Andrew Martyn summarised the practical findings of the comparison: "Whether you're planning a ski vacation in the US or want to experience the European Alps this winter, you can save money and be more comfortable by staying in your own private residence.".
In addition to the cost saving, staying in your own rented chalet or apartment has a range of other benefits, such as having more space and freedom, greater privacy and a more cosy atmosphere for a ski vacation with family and friends. Not to mention that guests pay no extra charges for incidentals in a vacation rental.
Many holiday chalets and apartments come equipped with better ski equipment storage and wet areas than hotels, relaxing areas with sofas, internet access, sauna and full kitchen facilities.
That's not to say that vacation rental chalets and apartments above the snowline are all inexpensive. The more well-heeled guests will find plenty of reasons to stay inside by renting one of the chalets on SunnyRentals.com list of top 7 Luxury Ski Chalets and Apartments.
About SunnyRentals.com
SunnyRentals.com is a fast-growing website for vacation rental properties, with more than 53.000 vacation homes, apartments and chalets available for rental in 50 countries. The website is available in 8 different languages and allows online booking for guests with payment by major credit cards. Vacation rental owners and agents can create advertisements for their vacation rental properties choosing from a range of advert types including a free Basic advert. The company was founded in 2009 and is headquartered in Cyprus with its commercial office in Copenhagen.
Contact
Andrew Martyn
SunnyRentals.com
+46709727727
###