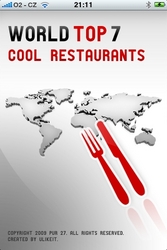 "I like to travel and go to restaurants where locals eat instead of this touristy crap! Just perfect when you are on a business trip"
(PRWEB) November 29, 2010
The new update of this very successful iPhone guide just got better and features even more hidden-gems, fine dining temples but also down-to earth bistro places that only the locals know about.
WORLD TOP 7 Cool Restaurants has re-thought the whole concept of why and how you pick a restaurant – don't take advice from someone who needs advertisers to pay for their guide. Take it from two independents who can give "take no-prisoners" critiques, avoiding all the marketing spiel and getting straight to the point…what are the best restaurants?
But why only 7 restaurants? Have you found yourself googeling the internet and got stuck in hundreds of restaurant recommendations?
You don't need more – for a business trip, a weekender or a holiday trip – just the best of each style.
Cities include:
North America & Canada
Aspen, Boston, Chicago, Las Vegas, Los Angeles, Miami, Montreal, New York (NYC) Downtown, New York (NYC) Midtown, San Francisco, Toronto, Vancouver, Washington D.C.
Africa & Middle East
Beirut, Cape Town, Dubai, Franschoek & Stellenbosch, Johannesburg, Marrakech, Zanzibar
Asia
Bangkok, Beijing, Colombo, Hano,i Ho chi minh city, Hong Kong, Seoul, Shanghai, Singapore, Taipei, Tokyo
Australia
Melbourne, Sydney, Sydney Beaches
Europe
Amalfi Coast, Amrum, Amsterdam, Athens, Barcelona, Berlin City East, Berlin City West, Berlin Kreuzberg, Bern, Budapest, Cannes, Capri, Copenhagen, Florence, Forte dei Marmi, Frankfurt, Gstaad, Hamburg, Istanbul, Kitzbuehel, Lisbon, London, Madrid, Milan, Moscow, Munich, Oslo, Paris, Portofino, Prague, Rome, Salzburg, Sicily (Aeolian Islands), St.Moritz, St.Tropez, Stockholm, Venice, Vienna, Zermatt, Zurich, Zurich Lake
South America
Bogota, Buenos Aires, Mexico City, Rio de Janeiro, Sao Paulo
WORLDTOP 7 also released "Gourmet Restaurants", "Nightclubs" and "Budget Hotels Europe"
# # #