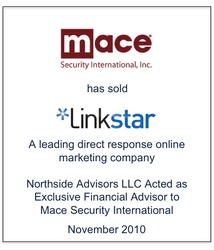 New York, NY (PRWEB) November 30, 2010
Northside Advisors LLC is pleased to announce that it has acted as exclusive financial advisor to Mace Security International, Inc. (OTCQB: MACE) in its sale of Linkstar Corporation to a major online affiliate network.
Linkstar is a full service online product marketing company that creates performance-driven marketing campaigns and provides design, brand, and technical support to drive e-commerce. The acquiror of Linkstar, a large online affiliate network, recognized the value of Linkstar as a leader in the direct-to-consumer e-commerce market, despite a challenging environment for incentive-based affiliate marketers.
"We are pleased that we were able to divest our Linkstar operation," said Dennis Raefield, CEO and President of Mace. "The completion of this sale of non-core assets is one of the final steps towards our goal of becoming a security focused company."
About Northside Advisors LLC
Northside Advisors is a new boutique investment bank that provides specialized financial advisory services, including merger and acquisition (M&A), capital raising and corporate development services, for emerging and middle-market companies in technology, software and media. The seasoned team of bankers works in close partnership with clients and has successfully completed more than 50 transactions, collectively. For more information, visit http://www.northsideadvisors.com.
About Mace
Mace Security Intl, Inc. is the manufacturer of personal defense and electronic surveillance products marketed under the famous brand name Mace®, and the owner and operator of a wholesale central monitoring station. For more information, visit http://www.mace.com.
# # #