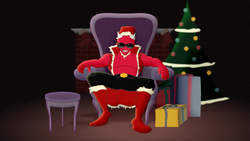 Mr Wicked is in such festive mood, that he has promised to give his Twitter followers a 'head's up' when the biggest and best discounts are available. You can find him on Twitter at Mr_Wicked
Bradenton, FL (PRWEB) November 29, 2010
The holiday season just gets better and better for customers at Totally Wicked E-Liquid! Amongst a sleigh full of special offers, the Christmas yo-yo Promo has just been announced.
Beginning on November 30th and running until December 20th 2010, the Totally Wicked Yo-Yo Promo is set to provide festive fun for all visitors to the Totally Wicked websites in the build up to Christmas, but most importantly, yet more great opportunities to pick up bargains and gifts in time for the big day.
What is this yo-yo all about? Well, throughout the duration of the offer there will be a guaranteed minimum discount (18%) throughout both websites (UK and US), but there's a twist. At any given moment and at Mr Wicked's discretion, the discount will be increased or decreased (but never below the minimum level), so the bargains are set to yo-yo.
Whichever way you look at it, there will be incredible deals to be had, but if you time your visits to the website just right, then good deals could turn into amazing deals. It's going to be really important to have your finger on the trigger (or the mouse button) to ensure you catch the yo-yo at its optimum discount level.
Mr Wicked is in such festive mood, that he has promised to give his Twitter followers a 'head's up' when the biggest and best discounts are available. You can find him on Twitter at Mr_Wicked.
So, Totally Wicked and Christmas are a match made in heaven for electronic cigarettes, e liquid and "vaping" accessories at tremendous prices! While it may be time for Santa and "ho, ho, ho", Mr Wicked prefers bargains that "yo-yo-yo!"
###