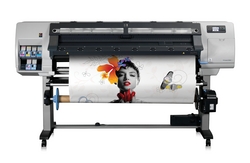 SIGNARAMA is thrilled to be able to offer its customers a superior print product because of this new partnership with HP
West Palm Beach, FL (PRWEB) November 30, 2010
SIGNARAMA, the world's largest sign franchise, has signed a worldwide exclusive partnership to offer HP technology to its franchisees around the globe. All new SIGNARAMA franchise locations will now come equipped with the HP L25500 60-in., large-format DesignJet printer. The L25500 uses HP's latex ink technology allowing SIGNARAMA to deliver superior print quality, a wider range of print applications, and an environmentally green sign solution with recyclable medias and very low air pollutant emissions.
"SIGNARAMA is thrilled to be able to offer its customers a superior print product because of this new partnership with HP," says SIGNARMA President Jim Tatem. "Not only can we now offer customers a 100% green solution with no harmful hazardous air pollutants and free media recycling, we are also offering an advanced product that allows for indoor quality prints with outdoor durability," Tatem continues.
The HP Planet Partners Program and HP Media Take Back Program provide franchisees the opportunity to recycle all waste generated by the printer free of charge, including large-format banners.
"SIGNARAMA has made the right choice not only for their current and future franchisees from a productivity point of view, but also for the environment and all of the businesses and consumers that will make versatility and sustainability an issue when choosing where to go for their sign and graphics needs" says John Stevens, Strategic Account Manager at Hewlett Packard.
"We were one of the first SIGNARAMA franchisees to receive the HP L25500 and our customers love the wide range of media we can now print on. This printer allows us to create unparalleled vehicle graphics and even print on paper and wallpaper. Since HP provides the media at prices comparable to non-Green media, we are able to offer our customers the opportunity to be environmentally conscious, without spending more money, say "Don & Denise Meng, of SIGNARAMA, Duluth, Georgia.
With nearly 1,000 retail locations worldwide, SIGNARAMA uses cutting-edge industry software programs to provide a full range of comprehensive sign and graphic services to both the private and commercial segments of the business community. The company is a part of United Franchise Group of West Palm Beach, Fla., a specialist in franchise development and services.
For more information on SIGNARAMA, call (800) 465-0362 or visit signarama.com.
Mary Mills, Marketing Director
Phone: (561) 868-1467
Email: mmills(at)ufgcorp(dot)com
###