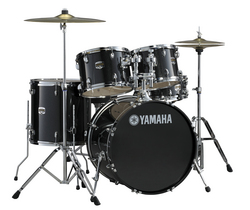 "With professional features at an affordable price, GigMaker is the go-to drum set for beginner and intermediate players alike who need an entry-level set but don't want to skimp on quality, tone and playability," said Dave Jewell, marketing manager, Yama
Buena Park, CA (PRWEB) November 30, 2010
Avoid ho ho humdrum gifts this season. When your future rock star is ready to graduate from the toy drums that come with interactive music video games, step up to a real drum kit that includes pro features at a nice price: the Yamaha GigMaker five piece drum set (starting at $399).
Wrapped with eye-catching glitter finishes, the shells produce a resonant sound that players can grow with as their talent level rises and the kits come with strong hardware and ball joints for precise positioning. With the GigMaker drum sets, there's no need to skimp on quality, tone and playability.
Though geared toward first-time players, the kits feature Yamaha hardware with hex tom ball joints for precise positioning along with five new eye-catching glitter wrap finishes.
"With professional features at an affordable price, GigMaker is the go-to drum set for beginner and intermediate players alike who need an entry-level set but don't want to skimp on quality, tone and playability," said Dave Jewell, marketing manager, Yamaha Drums.
In addition to a matching wood snare drum and Yamaha's double-braced hardware, the GigMaker drum sets include matching wood bass drum hoops for superior tone and durability and come in 20" and 22" configurations.
For more information on the new GigMaker drum sets, write Yamaha Corporation of America, P.O. Box 6600, Buena Park, CA 90622; telephone (714) 522-9011; e-mail infostation (at) yamaha (dot) com; visit http://www.yamaha.com/press.
About Yamaha
Yamaha Corporation of America is the largest subsidiary of Yamaha Corporation, Japan and offers a full line of musical instruments and sound reinforcement products to the U.S. market. Products include: acoustic and digital pianos, portable keyboards, guitars, acoustic and electronic drums, band and orchestral instruments, marching percussion products, synthesizers, professional digital and analog audio products, and innovative technology products targeted to the hobbyist, education, worship, professional music, and installation markets.
###