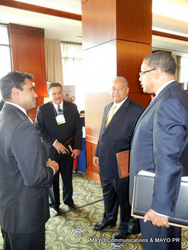 "We want to make sure consumer education is a key component of Smart Grid Technology, and all utilities need to keep that in mind," said Eddie Roberson, Ph.D. Director, Tennesee Regulatory Authority at NARUC Conference in Atlanta, GA.
Los Angeles, CA (PRWEB) November 30, 2010
PERI Software Solutions, Inc. announced today (Nov. 30, 2010) that Tim Maurer has joined PERI, a provider of smart grid devices, software and programming, as vice president, Energy Practice. "Maurer will provide PERI and its clients with extensive utility industry, technology and innovation expertise," said President & CEO Sarav Periasamy, PERI Software. "He has a rich experience in smart grid technology and is a welcome addition to our Energy Practice."
Periasamy and Maurer both presented one of PERI's successful GridMax, smart grid solution use cases showing the ROI through PERI's Energy Practice at a Utility Market Access Partnership (UMAP) Committee meeting at the 122nd National Assn. of Regulatory Utility Commissioners (NARUC) annual meeting, Omni at CNN Center, Atlanta, GA. UMAP establishes model program standards and "Best Practices" for State commissions and utilities to enhance procurement opportunities for certified women and minority owned businesses.
PERI outlined details of how it delivers high value-cost effective technology based business solutions for utilities and the ratepayer. The presentation also showed how it engages the customer on usage.
Maurer recently served as vice president of Marketing & Product Development at ECHO, an energy cooperative. He was responsible for the design and development of a smart grid / smart customer energy management portal and integrated end-point control system installed at multiple utilities and client sites. This smart grid solution received critical affirmation from utility consumer advocate leadership.
"I initially sought PERI's support to help enhance, scale and deploy his company's smart grid suite," explained Tim Maurer, vice president Energy Practice, PERI Software Solutions, Inc. "But after realizing the potential in the PERI's GridMax single-source solution suite-- and appreciating PERI's unique intelligent hardware, software and programming breadth -- I decided to join the PERI team."
For more info and more about PERI visit: http://www.mayocommunications.com/2010-NEWS%20RELEASES/NR-368.htm.
# # #