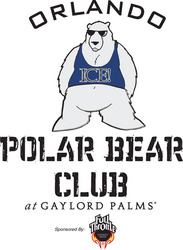 "When you start your day below freezing, there's no place to go but up."
Kissimmee, Fla. (PRWEB) November 30, 2010
For more than 100 years, members of Polar Bear Clubs around the world have gathered in their swimsuits to "take the plunge" into icy winter-chilled lakes and waterways. While it's easy to chalk it up as an oddball Northern phenomenon, the activity has also caught on in Florida… in Sunny Orlando, of all places!
The Orlando Polar Bear Club will host its third annual "plunge," a fundraiser for Children's Miracle Network, on Saturday Dec. 4 at 8:30am inside the 9-degree ICE! attraction at Gaylord Palms Resort.
While the activity gives new meaning to the word cool, Polar Bear Clubs take this notion to the extreme with the motto: "When you start your day below freezing, there's no place to go but up."
The Orlando based club – based loosely on the traditions of its kooky Northern counterparts – gives residents (and visitors) the opportunity to take their own cold-weather trip through ICE!, Orlando's 9-degree holiday attraction hand-carved from nearly two million pounds of ice, while wearing only a swimsuit (or summer attire.) The attraction, carved by a team of 40 artisans from China, features a walk-through winter wonderland of ice sculptures and monuments, all intricately carved from ice.
The highlight of the attraction – four ice speed slides – will provide a thrilling (and icy) "plunge" for members of the Orlando Polar Bear Club, This years ICE! features scenes from the beloved Christmas poem, "Twas the Night Before Christmas."
Ticketholders will have the only opportunity this season to visit ICE! in a swimsuit. Afterward, participants will be named official members of the Orlando Polar Bear Club and will receive a special certificate to commemorate their plunge. A post-plunge "after-glow" warm-up reception will include coffee and cocoa. In addition, participants will be invited to return to the attraction later that morning while fully clothed.
The special Orlando Polar Bear Club ticket is available for $19.99 plus tax. For every ticket sold, a portion of proceeds will be donated to Children's Miracle Network. To purchase tickets visit http://www.orlandopolarbearclub.com or call 407-586-4423. The Gaylord Palms Resort is located at 6000 West Osceola Parkway, Kissimmee, FL 34746.
About Gaylord Palms
Gaylord Palms Resort & Convention Center has gained the attention of the meeting and convention industry by providing world-class convention and leisure-focused amenities – all in one place. The award-winning Gaylord Palms is a Gaylord Hotels-branded property owned by Gaylord Entertainment, a leading hospitality and entertainment company based in Nashville, Tenn. For more information, visit http://www.gaylordpalms.com or http://www.gaylordentertainment.com.
# # #