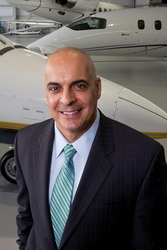 To receive this honor for outstanding service is a testament to the hard work and commitment of our entire employee group. - Shye Gilad, ProJet Aviation CEO
Leesburg, VA (PRWEB) November 9, 2010
ProJet Aviation, a Metro-DC area aircraft management and worldwide charter company, was recognized as the 2010 Service Business of the Year at the 16th annual Loudoun County Chamber of Commerce Small Business Awards Gala. ProJet Aviation CEO Shye Gilad was also recognized as a finalist for the Entrepreneur of the Year Award.
Gilad recognized community leaders and ProJet's employee group as instrumental to the company's success. "I want to thank the Loudoun County Chamber, Board of Supervisors, and the Leesburg Town Government for making Loudoun County and the Town of Leesburg such a great place to do business," said Gilad. "To receive this honor for outstanding service is a testament to the hard work and commitment of our entire employee group."
This is the second year in a row that ProJet Aviation received regional business honors. In 2009 ProJet was recognized by The Washington Business Journal as one of the Metropolitan DC Region's "Best Places to Work".
"Just to be chosen as a finalist for Loudoun County's premier business award is a tremendous honor. The competition for the Small Business Awards is incredibly fierce, with 253 of the most dynamic, innovative and successful companies in the region striving to earn the most prestigious recognition for business excellence in Loudoun County," said Chamber President Tony Howard.
ProJet Aviation opened a world class Jet Center at Leesburg Executive Airport (JYO) at the start of 2010. The new facility serves as the principal base of operations for ProJet's growing fleet of charter aircraft, as a complement to the company's existing flight operations in Winchester and Manassas Virginia. ProJet also sells jet fuel at Leesburg through a partnership with AvFuel.
About ProJet Aviation:
ProJet Aviation is the Washington, DC Metropolitan Area's premier aircraft management and charter company, specializing in private jet management, worldwide charter flights, aviation consulting, and acquisition services. ProJet operates a full service jet center in Leesburg, Virginia, with additional bases in Winchester and Manassas. A Washington Business Journal "Best Place to Work," ProJet combines the safe and secure operational practices of the world's best air carriers with the refined service of a world-class resort. ProJet Aviation: The value of time. The wonder of flight. http://www.ProJetAviation.com
CONTACT:
Julie O'Brien, Director of Marketing
Toll Free: 877-Pro-Jet, 877-776-5381, Main: 703-889-8558, Fax: 540-722-9380
957 Sycolin Road, Leesburg VA 20175
http://www.ProJetAviation.com
###