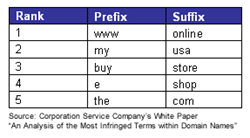 (PRWEB) December 13, 2010
London, UK and Wilmington, DE (Vocus) March 9, 2010 -- Corporation Service Company® (CSC), the leading domain management and brand protection company, announced today the findings of a recent study that found the most infringed terms within domain names are "www" and "online".
CSC analyzed more than 445,000 domain names to determine the most popular prefixes (words that appear before a brand name, like "my" in "mycsc.com") and suffixes (words that appear after a brand name, like "store" in "cscstore.com"). The data looked at more than 100 randomly selected brands and all domains filed through the Uniform Dispute Resolution Policy (UDRP). The top terms found were:
CSC validated the most common prefixes and suffixes against the main Web site addresses for 100 of the top corporate domain owners in order to determine whether brand owners or third parties had registered these popular variations. The results indicated that 64% of the top corporate domain owners do not own common variations of their domain names that include the "www" prefix or "online" suffix.
Furthermore, the research revealed that third parties do a better job of monetizing traffic to domain names containing the "www" prefix than brand owners. Of the domain names containing this prefix registered by third parties, more than 80% point to pay-per-click advertising sites. Of the domain names containing the "www" prefix owned by brand owners, 67% did not point to any active Web site.
To understand how much traffic these domain variations could potentially drive, CSC analyzed the "wwwcscglobal.com" variation of the "cscglobal.com" domain name. The variation "wwwcscglobal.com" currently drives 1% of traffic to the main site.
When the same logic is applied to a consumer brand with an average of one million Web site visitors per day, a 1% difference in traffic can make a substantial impact. By failing to register a common variation of its domain name, that consumer brand could be missing 3.65 million visitors per year. In fact, consumer Web sites may experience significantly higher traffic losses than a B2B site like http://www.cscglobal.com.
"Companies cannot register every permutation of their brands in all domain extensions," said Vincent D'Angelo, Director of Global Brand Advisors with CSC. "However, brand owners can understand infringement patterns and use that knowledge to help mitigate risk and drive growth in Web traffic."
D'Angelo continued, "With more pressure on marketing departments to drive traffic to their Web sites, simply reviewing their current domain name strategy could increase these numbers at a much higher return on investment (ROI)."
To learn more about this research and how to protect your brand against infringed terms, join a free Web seminar from CSC on March 9, 2010. To register for the web seminar or to request additional information about the report, visit http://www.cscglobal.com/seminars.
About CSC
Corporation Service Company, a privately owned service organization, provides matter management, corporate compliance, and trustee services for companies and law firms worldwide; corporate identity protection services for top global brands; and due diligence and transactional services for the world's largest financial institutions. It is one of the largest registered agent providers in the United States. Founded in 1899, CSC has 1,000 employees located throughout North America and Europe. Visit http://www.cscglobal.com to learn more.
For More Information, Contact:
Justin Hartland (Europe)
+ 44 (0) 207- 854- 6183 or jhartlan(at)cscinfo(dot)com
Michelle Lau (North America)
302-636-5401 x3492 or mlau(at)cscinfo(dot)com
###