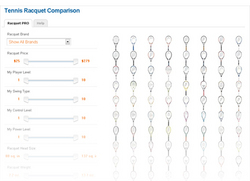 Oceanside, CA (PRWEB) December 17, 2010
Doittennis.com, an industry leader in tennis e-commerce, today announced the debut of the Racquet Pro, a comparison engine that allows customers to sift through hundreds of tennis racquets by providing information about their player level and personal preferences. In an industry where slight nuances in tennis racquet technology can drastically affect performance, the Racquet Pro solves the problem by matching the right racquet to the player via this tennis racquet comparison engine.
"The new version of our website will provide our customers with some of the latest technology on the market, more user friendly features, as well as a revamped Racquet Pro, which has been a great success with many of our customers," noted Hans Paino, President of Doittennis.com. "The Racquet Pro is a revolutionary tool that helps our customers sort through our vast list of tennis racquets, narrowing the search from 200+ racquets, down to less than 10. We are also expanding the Racquet Pro to a Shoe Pro, Bag Pro and String Pro."
Although the Racquet Pro is not a replacement for a real-life tennis pro, it does perform calculations on large arrays of data in order to return an unbiased result set. Paino offers an analogy, "It's like getting a second opinion from a third party."
By allowing customers to quickly sift through an impressive comparison point set, tennis racquets with desirable qualities are brought into focus, while racquets falling outside of the search parameters are turned transparent.
"It was interesting to see the Racquet Pro's recommendations after I submitted my preferences," says Matt Stevens, an avid tennis player from San Diego. "I had never considered purchasing three out of the four recommended racquets. I guess it goes to show you that your own idea of the ideal racquet is largely based on advertising, fads, and word-or-mouth, and not on specific data. Luckily, one of the four was a tennis racquet I had considered purchasing in the past, and the Racquet pro validated my desire for this racquet. I found a winner."
The Racquet Pro filters data by using settings from the following criteria set:

Racquet brand
Racquet price
Player level
Swing type
Control level
Power level
Racquet head size
Racquet weight
Racquet balance
Racquet length
Racquet stiffness
Racquet swing weight
Doittennis.com expects to see similar reactions for other customers as well. "By offering a tool that helps our customers quickly and easily identify tennis racquets that better their game, I feel we are providing a great value," said Paino. "That has been our guiding corporate vision since day one – provide value and enable our customers."
It's quite likely that the Racquet Pro will never usurp human tennis pros, but it is equally likely the Racquet Pro is here to stay. Doittennis.com is betting on it.
# # #