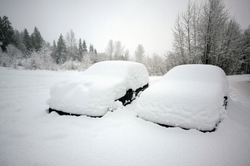 Having a quick and easy way to let everybody maintain a Business as Usual status despite unexpected circumstances takes the stress out of such an event says Andrew Try MD ComXo.
(PRWeb UK) December 2, 2010
With tube strikes becoming more regular and the snow threatening disruption to travel, British businesses face another winter of staff struggling to make it to work, costing the economy millions, but more importantly costing your business money.
"Having a quick and easy way to let everybody maintain a 'Business as Usual' status despite unexpected circumstances takes the stress out of such an event " says Andrew Try MD ComXo.
ComXo have developed a suite of products that complement the traditional switchboard functions of any business. They are designed to help companies maintain a 'Business as Usual' status whatever the eventuality.
Here is how:
Stage 1: Communicate with your workforce. Managing communications during an unexpected event is essential for all BCP teams. ComXo's BCP tool gives access to a simple, cost effective cloud computing solution that enables companies to get messages to all staff and keep them updated with the latest developments.
Usable from PC, Blackberry, iPhone or iPad* the tool enables mass communications to staff via text blast or voice blast and combined with an employee emergency hotline gives three ways to stay in touch with events as they unfold. With features such as real time automated staff roll call and text back this tool will cut through the challenges of getting everybody up to date information.
*Leading up to Christmas we are offering a free iPad with any purchase of the BCP product. Contact us now for more information
Stage 2: Keep Front of House answering calls. Our 24 hour Virtual Switchboard service offers your switchboard support whenever they need it. This can be on an overflow, out of hours or full outsource basis. Currently over 120 city based businesses, including over 20% of the top 50 UK law firms use our service to support their own. In the event of a snow day or tube strike you will never again have to worry about who is answering your calls, we will simply answer when you cannot. It's as simple as that.
Stage 3: Keep people communicating no matter where they are. MultiVoice is an audio conferencing solution, allowing meetings with staff or customers without travelling. MultiVoice provides a standard conference call service and can help share a presentation online. Why should communication stop because you're not in the office?
About ComXo:
ComXo are a leading provider of telephony solutions.
Providing communication services and technologies of the highest quality, emphasising attention to clients' individual needs and offering bespoke products to enhance their efficiency, rationalise their costs and increase their professionalism. .
ComXo combine great people with cutting edge technology to deliver truly superior and unrivalled levels of service. Over the past 21 years our success has been built on 4 core principles: Politeness, Professionalism, Proficiency and Personality.
# # #