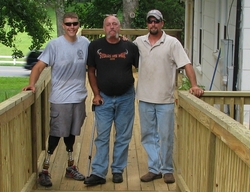 "We depend upon members of the community to help us make a difference in the lives of all veterans who served no matter what war or what branch of the military they served in to keep our country safe." said Dale Beatty, Co-founder of Purple Heart Homes
Statesville, NC (PRWEB) December 1, 2010
When Dale Beatty and John Gallina joined the North Carolina National Guard in 1996 they went on two humanitarian missions during Hurricane Fran in 1996 and Hurricane Floyd in 1999 that forever changed their lives. "When you go on humanitarian missions you feel the agony of those dealing with a natural disaster," said John Gallina. "Your feelings change as your heart fills with sadness over loss and at the same time joy for lives you saved,' Gallina added.
Gallina and Beatty continued their journey together when they were deployed to Iraq in 2003. They were both severely injured November 15, 2004 when the vehicle they were riding in hit an anti tank mine that exploded leaving Beatty a double amputee below the knees and Gallina with severe head and back injuries.
When they returned to North Carolina the humanitarian experiences influenced their direction in life because as severely injured veterans they wanted to do something that would help other disabled veterans. Together they formed Purple Heart Homes, a 501(c) 3 whose mission is to provide housing that is substantial in function, design and quality (see: http://www.phhnc.org). They do that by assessing the needs in Service Connected Disabled Veterans' homes to make the necessary modifications to provide a safe and accessible barrier free environment.
"We engage community to help us modify or adapt existing homes for veterans," said Beatty. "We depend upon members of the community to help us make a difference in the lives of all veterans who served no matter what war or what branch of the military they served in to keep our country safe." Beatty added.
Beatty and Gallina will begin work in early January for David Morrell, a 63 yea- old Vietnam Army Special Forces Veteran that served three tours of duty from 1967 – 1969. Morrell like many Vietnam veterans suffers from Agent Orange with diabetes that resulted in the amputation of one of his legs. His current home is inaccessible with his deteriorating condition.
"We are asking the community and the nation to step up and help us increase the number of homes that need modifications for disabled veterans in 2011," said Gallina. "Help can come in the form of donations of time, materials, specialty trades and monetary contributions," Gallina added.
As the spirit of the holiday giving season approaches consider making a contribution to Purple Heart Homes – go to http://www.phhnc.org or call 704-838-4044 for more information.
###