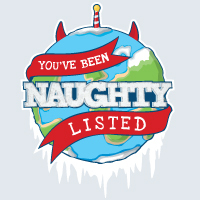 The office holiday parties haven't started, so the naughty behavior will likely increase
Traverse City, MI (PRWEB) December 2, 2010
It's that time of year again--Santa's deciding who's naughty or nice, and Oneupweb has taken the initiative to help him out with the final judgment. The Oneupweb team made two social media outlets go naughty--not with scandalous photos or inappropriate tweets--but rather with tongue and cheek holiday humor.
"We created Naughty Listed two years ago as an email campaign," explains Oneupweb Founder and CEO, Lisa Wehr. "In 2008 Naughty Listed reached lots of people, but we figured this year a Facebook application would be the way to make it even more viral. And to top it off we included Twitter, which allows people to anonymously tweet why they put their friends on the list."
NaughtListed.com sets a crass tone, making for laughs and eagerness to share the Christmas crudeness. To redeem or save yourself from the list, you must add at least three Facebook friends to the Naughty List. If you wish, you can have their dirty deeds tweeted to the North Pole and beyond.
In less than a month over 1,220 people have visited Oneupweb's Naughty Listed Facebook app.
"The office holiday parties haven't started, so the naughty behavior will likely increase," laughs Wehr. "It's only the beginning of December, so we expect the number of snitches to at least double by Christmas Eve."
To meet the entertaining, uncouth elves who aid with adding your friends to the list, visit NaughtyListed.com. To view the tweets that unveil the reasons for people becoming Naughty Listed, visit Twitter.com/NaughtyListed.
About Oneupweb
Oneupweb has been an innovator in digital marketing for more than a decade, creating integrated online marketing plans that incorporate Search, Social and Design services. Heralded by an independent research firm for their leadership team, Midwestern work ethic and solid experience in optimizing complicated sites, Oneupweb has been named a Top 25 Search Marketing Agency by Advertising Age for four consecutive years, and CEO Lisa Wehr is recognized as an Ernst & Young Entrepreneur of the Year. The company publishes an award-winning blog entitled StraightUpSearch, and an award-winning monthly newsletter entitled The Merge. Oneupweb is a privately held company located in Traverse City, Michigan. For more information on Oneupweb, please call 231.922.9977, visit OneUpWeb.com or follow them on Twitter @Oneupweb and @LisaWehr
###