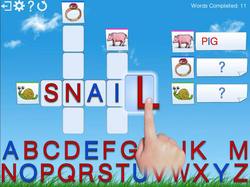 The Montessori method is internationally recognized and has been successfully used for 100 years. It seems logic to not reinvent the wheel but build on what has already been proved adding what technology can bring
(PRWEB) December 8, 2010
L'Escapadou announces the release of Montessori Crosswords 2.0, an update to their successful iPad and iPhone educational app recently mentioned in the New York Times, with 4 stars rating average on the app store, and over 10.000 downloads so far. Based on the internationally recognized Montessori learning method, the app helps kids develop their writing/reading skills by building words from a set of pictures using a Movable Alphabet. This new version includes audio for each word as well as letter sounds (phonics), and uses 300 word-image-audio combinations to create tens of thousands of different crosswords.
"We designed version 1.0 to encourage parents playing with their kids and help them learn how to build words, but we soon realized that parents wanted their kids to be more independent." said Pierre Abel, co-founder of L'Escapadou. "In Montessori Crosswords version 2.0, we added audio for words and letter sounds, responding to the requests of busy parents, and allowing children to play and learn independently."
Even without the audio, version 1.0 generated very positive feedback from the press and on the Internet. Montessori Crosswords was mentioned in the New-York-Times article "iPhone for toddlers", where a mother explained that her 3-year-old had learned to spell compound words using the app. Montessori Crosswords was also selected in the "5 Favorite Apps for Elementary School iPads" post on Wired's GeekDad blog.
"The Montessori method is internationally recognized and has been successfully used for 100 years. It seems logic to not reinvent the wheel but build on what has already been proved adding what technology can bring" said Pierre Abel. "iPhone, and iPad in particular, is a great medium to support Montessori exercises such as the picture spelling activity that inspired us to create Montessori Crosswords. Touch technology allows direct interaction with objects, which is very important to ease usage - there is no mouse between kids and the computer".
User feedback seems to acknowledge this since the app is rated 4 stars on average on the App Store and one can read the following reviews "Both my kids love this app and they are learning so much", "Fantastic - best reading tool for my daughter yet!","Absolute Must". A speech pathologist reported that she's been using the app with her patients to her satisfaction, and educators reported that they use the app with their students.
As in the Montessori method, the 300 word-picture-audio combinations are sorted according to 3 levels of spelling difficulty. Level 1 displays a 3-letter word with no difficulty for beginning readers, and levels 2 and 3 automatically create multi-word crosswords in tens of thousands of different combinations.The app also features an activity with only the Movable Alphabet that allows open-ended activities for young children learning their letters.
To create an enjoyable experience, the app also includes sounds and animations and, in particular, interactive visual effects that are displayed after a crossword is completed. "When we designed the app, we also wanted to include as much fun as possible because, as all parents know, fun educational apps are the most successful with kids." Pierre Abel said.
Montessori Crosswords 2.0 is available for $3.99 on the iTunes App Store. It is a universal application that runs both on iPad and iPhone.
Screenshots, video and more information are available on the Montessori Crosswords' product Web Site. A media kit is also available.
About L'Escapadou
L'Escapadou is a family design studio dedicated to creating fun, creative and educational apps for iPad and iPhone. Pierre Abel holds a PhD in computer science and has extensively worked on user experience design. His wife is a translator currently busy home-educating their daughters and helps in the design of educational apps. Watching their kids - 4 and 7 years-old - learn and play is their main source of inspiration for the apps they make. The studio was created after the launch of the iPad with the belief that the iPad can be a great tool for learning and creativity.
###