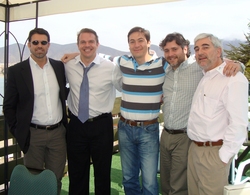 "It was a tremendous honor to share with such an esteemed group of international specialists researching, teaching and using their skills daily to help a vast array of patients throughout Chile."
New York, NY (PRWEB) December 9, 2010
James C. Wittig, MD, Chief of Orthopedic Oncology in the Departments of Orthopedic Surgery and Director of the Sarcoma Divisions of the Cancer Centers, Mount Sinai Medical Center and Hackensack University Medical Center was invited to be an International Guest Speaker in La Serena Chile by the Musculoskeletal Tumor Society of the National Chilean Orthopedic and Traumatology Society from November 17-20, 2010.
As a guest specialist at the 46th Chilean Orthopedic and Traumatology Society Conference (XLVI Congreso de Ortopedia y Traumatologia), Dr. Wittig, a top doctor in the field of orthopedic oncology, presented five lectures detailing limb sparing surgery and reconstructions for sarcomas and other musculoskeletal tumors throughout various areas of the body. In each presentation Dr. Wittig demonstrates how to meticulously separate the tumor from adjacent vital neurovascular structures; remove the tumor safely while preserving the limb; and reconstructing the extremity with special prosthetic replacements, muscle flaps and transfers. Dr Wittig presented:
Radical Resection of the Scapula and Reconstruction with a Total Scapula Prosthesis vs Stabilizing the Humerus with Multiple Muscle Flaps
Radical Resection and Prosthetic Reconstruction of the Proximal Humerus for Sarcomas
Radical Resection and Reconstruction of the Proximal Tibia with a Modular Segmental Proximal Tibia Tumor Prosthesis: Emphasis on Patella Tendon Reconstruction and Rotation of the Gastrocnemius Muscle for Soft Tissue Coverage
Radical Resection of Tumors of the Proximal and Distal Femur and Reconstruction with a Modular Segmental Tumor Prosthesis: Emphasis on Capsular Reconstruction to Prevent Hip Dislocation and Use of a Rotating Hinge to Prevent Loosening
Limb Sparing Surgery for Soft Tissue Sarcomas: Neurovascular Dissection, Tumor Resection and Local Muscle Rotation Flaps for Soft Tissue Closure (all presentations can be found at http://www.TumorSurgery.org.)
Each presentation was followed by a discussion as well as an opportunity for Dr. Wittig to collaborate with specialists from Chile as well as several other countries sharing a common desire to learn from each other and share their expertise to bring back to their respective countries.
The opportunity to speak was a result of a cultivation of both a professional and personal collaboration with Dr. Rodolfo Zamora whom Dr. Wittig met in 2005 when Rodolfo was a young resident in orthopedic surgery at the University of Chili. Zamora had come to the United States for training and in the three short months he observed Dr. Wittig, it was clear to Dr. Wittig that he had the natural instincts to be a tumor surgeon. In addition to Dr. Zamora, Dr. Wittig found a new base of colleagues in the group of specialists involved in the Musculoskeletal Tumor Society of the Chilean Orthopedic and Traumatology Society including president of the society, Dr. Julio and Arriagad and doctor members: Luis Bahamonde M., Associate Professor of Orthopedic Surgery, Chief of Orthopedic Oncology and Chairman of Orthopedic Surgery at the University of Chile, Eduardo Botelo, Ricardo Tolosa, Jose Cifras, Juan Fuenzalida, Rodolfo Zamora, Raymon Hernandez, Orlando Wevar, Eduardo Raviola, Pedro Valdivia, and William Hofer.
"It was a tremendous honor to share with such an esteemed group of international specialists researching, teaching and using their skills daily to help a vast array of patients throughout Chile." Notes Dr. Wittig "The entire group was very impressive. They are all fantastic surgeons and had great presentations. They showed cases that exemplified their outstanding surgical skills. I learned much from all of them about various ways of treating musculoskeletal tumors. In addition, making good friends and close colleagues in Chile was an added bonus being at the conference and I look forward to collaborating in the future."
One of the highlights of the conference for Dr. Wittig was a presentation by Dr. Luis Bahamonde M, Director of Orthopedic Surgery and Chief of Orthopedic Oncology at University of Chile. "After viewing the presentations, 'Resecting Giant Cell Tumors of the Distal Radius and Reconstruction of the Wrist with a Free Non Vascularized Fibula Transplant,' It was amazing to see the healing and the ability of patients to keep their wrist range of motion utilizing the articular surface of the fibula to reconstruct the wrist joint. Patients had virtually normal wrist range of motion and the articular surface of the fibula looked almost identical to that of the normal distal radius. I was also very impressed on the cases he showed regarding limb sparing surgery for periacetabular tumors and reconstruction of the hip joint with a distal femur allograft to restore bone stock followed with an acetabular cage and total hip replacement. He also presented an impressive informative paper on extraarticular-resection of malignant tumors that demonstrated intraarticular contamination," notes Dr. Wittig.
Drs. Wittig and Bahamonde will be working together to develop an orthopedic oncology course for the residents of Chile in 2012. Dr. Wittig is already starting to plan and is excited to return. Dr. Wittig is very grateful and honored to have been invited to lecture by such an outstanding group of colleagues.
About Dr. Wittig
James C. Wittig, MD, specializes in limb-sparing surgery; pediatric and adult bone and soft tissue sarcomas; melanoma; benign musculoskeletal tumors; as well as complex hip and knee replacement surgery. He also has special expertise with regard to tumors that affect the shoulder girdle and scapula. Currently, Dr. Wittig is Associate Professor of Orthopaedic Surgery, Chief of Pediatric and Adult Orthopaedic Oncology and the Sarcoma Program at Mount Sinai Medical Center in New York City. Office within the Faculty Practice Suites, 5 East 98th Street, 9th Floor. as well as Chief, Orthopaedic Oncology and Director, Sarcoma Section of the Cancer Center, Hackensack University Medical Center. Hackensack office located at Continental Plaza, 433 Hackensack Avenue, 2nd Floor, Hackensack, New Jersey. He is a member of the American Academy of Orthopaedic Surgeons; New York State Society of Orthopaedic Surgeons, Inc.; and the Medical Society of New Jersey. He has published over 90 educational materials ranging from original reports, abstracts, videos and articles in the following publications: Clinical Orthopaedics and Related Research, The Journal of the American College of Surgeons, American Family Physician, Journal of Arthroplasty, Radiology and Journal of Bone and Joint Surgery. He is also a prominent lecturer in the field of Orthopaedic Surgery throughout the nation. To schedule a consultation with Dr. Wittig, please call his NYC office at 212-241-1807 or email DrJamesWittig at aol.com or visit http://www.TumorSurgery.org.
###