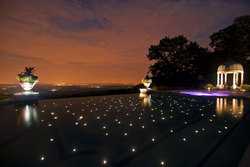 Ramsey, NJ (PRWEB) December 13, 2010
Exciting swimming pool renovations are up for prestigious landscape awards on December 13th at the NJLCA Award Ceremony at the Brownstone in Passaic County, NJ. Swimming pool and landscape renovations prove to be essential for homeowners looking to stay up-to-date with the latest swimming pool industry features available today. Cipriano Custom Swimming Pools and Landscaping specializes in taking old, dreary back yards and transforming them into highly-acclaimed, luxury swimming pools and landscapes with every possible amenity. Cracked pool floors now glisten with new iridescent glass tile products, aggregate pool plaster, and fiber optic star lights. Decaying paver patios have been replaced by elegant, natural stone surfaces for formal outdoor dining and entertainment. By choosing new and improved swimming pool and landscape products for their project, Cipriano's clients experience the benefits of the latest durable features, brand new luxury amenities, and creative, awe-inspiring designs.
The award-winning back yard in Kinnelon, NJ received a Gold International Award of Excellence for pool renovations. The old swimming pool and landscape included a decaying paver patio and left very little space for outdoor relaxation and entertainment. Most importantly, the outdoor living space failed to incorporate the yard's majestic view of the New York City skyline. After a complete remodeling, the pool renovation now showcases a glass vanishing edge to accent the majestic view. The new swimming pool itself rivals that captivating view with new and improved in-floor fiber optic light kits and elegant fiber optic deck jet streams arching into the pool at each corner. Along with a dynamic visual display, this swimming pool lighting created a safe and well-lit poolscape for evening swimming or entertainment. The Grecian glass tile mosaic was custom designed for this project; it surrounds the pool at the waterline and a larger version appears on the pool floor for a stylish, yet durable accent. Though a daunting task, the pool renovator, Cipriano Custom Swimming Pools and Landscaping, was able to plaster and tile the pool without damaging any of the 200 delicate star lights on the floor of the pool. The pool remodeling also included benches and a sunshelf for the homeowners to sit and gaze out over the vanishing edge.
The old paver patio surrounding this pool was renovated with a new flamed limestone from Wisconsin that is literally the coolest stone on the market. On those hot days, there won't be any need to tip-toe across the patio because the stone remains cool even on 100-degree days. The new patio also has plenty of space to relax and enjoy the sites. A custom outdoor kitchen with original custom profiles designed by Chris Cipriano along with a grill completed the comfortable outdoor living space design. In addition, a Tuscan garden design, ornamental statues, and an antique gazebo imported from Europe supported the remodeling with a Classical feel. In the end, the pool renovation spawned not only this luxurious Roman-ended pool and spa but also multiple awards for swimming pool design and construction. The renovated swimming pool and landscape earned the prestigious Gold International Award of Excellence from the Association of Pool and Spa Professionals.
A major pool renovation with many new options also transformed a swimming pool in Mahwah, NJ into a woodland waterfall paradise. Prior to renovation, the strange swimming pool had raised coping because of a ledge rock beneath the pool. The previous pool company also set the swimming pool too close to the home in order to avoid the slope of the yard. After the remodeling, three large waterfalls dealt with the sloping yard in a dramatic way, implementing a brand new stone cutting technique which reduces the amount of stone in half; a rock hammer took care of the ledge rock and allowed for a 1,350 square-foot natural swimming pool at the foot of the massive waterfalls.
In addition, the pool renovation included an oversized spa and large stones with plants already growing on them called Living Boulders. The project also features a new glass tile product from Oceanside Glasstile, a slate and glass tile finish which has amazing depth and texture. Color fiber optic lights, mature plantings, and a grey Tennessee Crab Orchard patio surround the pool, while a Volcanic Fire Pit is set in a small cave next to the rushing waterfalls. The Volcanic Fire Pit a brand new feature from Cipriano showcases crushed fiery glass and a new style burner which allows the fire pit to burn bigger than ever, producing a one-of-a-kind effect of fire and water next to the rushing falls. The three waterfalls, Volcanic Fire Pit, mature plantings, and Living Boulders with moss, ferns, and lichen, give the swimming pool its natural feel, like the pool has been there forever. The Tennessee Crab Orchard patio provides a sturdy, cool surface that works perfectly around natural swimming pools.
With the help of skilled artisans and a design team led by William Moore, a 12 year NJ Licensed Landscape Architect, Cipriano found and implemented creative solutions to each issue that the previous swimming pool company sought to avoid. In addition, the renovations provided new, luxury amenities with stylish and durable characteristics that will ensure the quality of the new swimming pool for years to come. In the end, the swimming pool renovation obviously proved worthwhile; the massive waterfalls, Volcanic Fire Pit, lush landscape, and Living Boulders earned this rugged retreat the gold award.
Upgrading swimming pools and landscapes with the latest industry trends make swimming pool renovation and remodeling extremely appealing. The idea of looking upon an old, decaying swimming pool and landscape and envisioning an award-winning luxury outdoor living space can be hard to believe. Today's technology, exciting new features, and the right design and build firm will realize this very possibility. Award-winning pool renovations offered by Cipriano Custom Swimming Pools and Landscaping illustrate the benefits of combining these components with tremendous, award-winning results.
About Cipriano Custom Swimming Pools And Landscaping:
Celebrating over 20 years in business, international award winner Cipriano Landscape Design is a recognized industry leader in custom residential landscapes, masonry and swimming pools. After a little more than a decade in business, the company catapulted to the top of the state's luxury landscaping and pool industries when it was awarded a $2.5 million residential landscape project. Today, along with the Ramsey, NJ office, the Cipriano family owns a 10-acre farm and nursery in Mahwah, NJ, where large caliper specimen trees and other rare plants are grown. With a design office headed by Certified Landscape Architect William Moore, the Cipriano team won the Northeast Pool & Spa Association's 2007 Best in Competition swimming pool award and in 2009 a Gold medal at Association of Pool & Spa Professional's International Awards of Excellence. Also in 2008, the Cipriano team earned the Certified Building Professional (CBP) credential from the APSP, one of only five custom pool builders in Bergen County to have earned the certification.
###