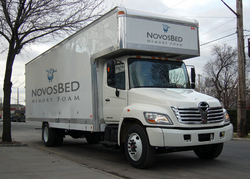 I'm glad we can make a difference, even if it's just a good night's sleep.
(PRWEB) December 10, 2010
On December 9, 2010, Canadian memory foam mattress company Novosbed donated a truckload of new memory foam mattresses to the Boys & Girls Clubs of Edmonton, a charitable organization that provides support and community programs to children and young adults in need.
"We're delighted to receive a donation like this just before the holidays," says Boys & Girls Clubs of Edmonton Turning Points Program Manager, Jacqui Stanford. The mattresses will be used in conjunction with the Club's Independent Living Program where they will be distributed to apartments across Edmonton. "Donations like this make it possible for our organization to continue to help underprivileged young adults establish themselves and learn to live self-sufficiently."
The Boys & Girls Clubs of Edmonton (http://www.boysandgirls.ab.ca) tackles a broad range of problems facing today's youths, including teen pregnancy, substance abuse, crime, youth unemployment and child poverty.
Novosbed CEO Helenka Prochazka is a long-time advocate of youth support programs. "It amazes me that child poverty, abuse, and neglect is still so prevalent in wealthy countries like Canada and the USA. A stable environment for our young people is vital to our continued prosperity, which is why support of organizations like the Boys & Girls Club of Edmonton is so important."
About Novosbed's donation, Helenka says, "I'm glad we can make a difference, even if it's just a good night's sleep."
Novosbed designs, manufactures and sells memory foam mattresses across North America and can be found online at http://www.NovosBed.com.
For more information, Helenka Prochazka can be reached at 1-877-496-3626 or e-mail info(at)novosbed(dot)com, and Jacqui Stanford can be reached at 780-801-0922.
###