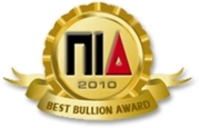 Gold & Silver Seller Reviews
Lutz, FL (PRWEB) December 10, 2010
Gainesville Coins, Inc. is proud to announce for the third time in a row, that the National Inflation Association (http://www.inflation.us) has ranked Gainesville Coins as the only five star rated precious metals coin dealer in every category which includes pricing, selection, customer experience, shipping/processing and overall. Gainesville Coins competed with sixteen other online gold sellers and was still the only gold & Silver seller to capture top rankings in every category offered. http://inflation.us/reviews/
Originally, the National Inflation Association (NIA) first published its rankings in January 2010, then did an update in July 2010 and Gainesville Coins was the only online gold & silver seller that did not lose or change ratings from their original five star rating across the board since the onset of the surveys.
NIA's "Gold & Silver Seller Reviews" quickly gained notoriety among precious metal buyers as an excellent resource when making purchasing decisions.
Gainesville Coins, Inc has the proud distinction determined by the National Inflation Association has being the "lowest overall priced online gold seller."
Gainesville Coins also retains their A+ member rating with the Better Business Bureau.
Gainesville Coins also offers assistance in setting up Precious Metal IRA's. All Gainesville Coins transactions are safe, secure and private.
Gainesville Coins offers some of the lowest pricing in the industry and can purchase online 24/7 with real time pricing. Live help is offered 5 days a week and as well as in their showroom. Same day shipping on in-stock products. Credit Card and bank wires accepted. Unlike many other precious metals dealers there are no commissions, broker fees, or hidden costs of any kind.
For more information call 813.482.9300 or http://www.gainesvillecoins.com
###