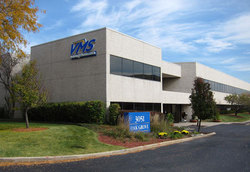 We Deliver What Others Promise.
Downers Grove, IL (PRWEB) December 15, 2010
Velocity Merchant Services (http://www.getvms.com), one of the nation's largest direct processors of credit card transactions, has moved from their previous location in Oak Brook, IL to their new facility, located at 3051 Oak Grove Rd. in Downers Grove, IL, to accommodate the processor's unprecedented growth.
The move has more than tripled the company's workspace from its previous 5,000 square foot office to a spacious 15,000+ square foot area, with room to further expand. This move has afforded VMS the ability to create numerous new jobs in the area and positively impact the Chicago suburb's local economy.
"We've expanded our workforce from 14 to 70 people over the last six years and we will be continuously hiring for the foreseeable future," says VMS CEO Danoush Khairkhah. "What makes VMS tick is the quality of our people. They come in with the mentality of making a difference in our industry."
This influx of employees includes both expanding the company's core of salespeople as well as creating entirely new-to-VMS positions, like a full-time Director of Recruitment, to manage the on-boarding of new hires.
In a recession where many companies are downsizing or outsourcing work to other countries, VMS has been able to not only stand steadfast but steadily grow in the face of this opposition, helping to create jobs and rehabilitate the local economy.
An office upgrade was required when VMS realized it had reached its maximum operating capacity at its old location and, in order to allow further expansion, a larger office was required. Fortuitously, a nearby 30,000 square foot building appeared on the market that fit the company's needs and was subsequently purchased.
This move is a keen indicator of the company's steady, persistent growth since 1998 when it was founded by owner and President Dema Barakat. "The timing (of this relocation) was perfect since there was no other suitable space available for us in Oak Brook," says Barakat. "I can't wait to see where we are in five years."
Companies interested in accepting credit and debit card payments at their businesses can visit http://www.getvms.com or call 888-902-6227 to begin offering their customers flexible payment options. Persons looking for employment in a sales representative capacity should visit http://www.getvms.com/careers.html and submit an application online or call 888-902-6227 ext. 709.
Velocity Merchant Services is the largest direct processor of Visa/MasterCard in the nation for small to medium-sized businesses and has been in the bankcard industry since 1998. VMS' office in Downers Grove, IL is full of customer service and sales representatives who genuinely care about their merchants' businesses and are available 24/7. VMS also offers a fully qualified and helpful technical support staff, the latest point of sale terminals to keep merchants on the bleeding edge of processing security, and one of the highest merchant approval rates in the country.
# # #