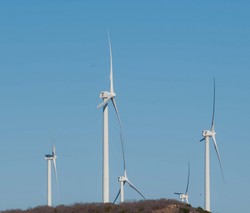 Because it's infinitely recyclable, copper is inherently a 'green' metal. We're always looking for ways to make it greener and ways to make our process cleaner.
Denton, TX (PRWEB) December 16, 2010
United Copper Industries, which was the first copper wire manufacturer in the Western Hemisphere to adopt lead-free jacketing for its building wire products, has taken another giant green step. UCI now gets 40% of the energy for its manufacturing facility from wind power.
UCI's power needs are supplied by Denton Municipal Electric. In May of 2009, DME entered into an agreement with renewable energy giant NextEra Energy Power Marketing, the largest generator of wind and solar power in North America. Fully 40% of DME's energy—60 megawatts—now comes from the Wolf Ridge wind farm in Cooke County, only miles from UCI's Denton plant.
"We are delighted with this arrangement," said UCI president Andy Blanchard. "Because it's infinitely recyclable, copper is inherently a 'green' metal. We're always looking for ways to make it greener and ways to make our process cleaner. Denton Electric's commitment to wind power is consistent with our own commitment to making an environmentally friendly product."
###