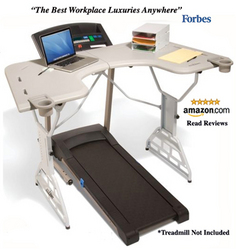 Phoenix, AZ (Vocus) December 17, 2010
Scientific American, recognized internationally for its coverage of scientific breakthroughs and technologies, has named the TrekDesk Treadmill Desk to its TOP 10 GADGETS LIST of 2010. TrekDesk has previously been recognized by Forbes Magazine and US News & World Report for its revolutionary approach to health and wellness.
"Scientific American has been reporting on medical and technological innovations since 1845. We are gratified that the editors recognized TrekDesk for its unique potential for combating the ill health effects of sedentary lifestyles caused in large part by advances in technological innovation," stated TrekDesk CEO, Steve Bordley
Designed to fit any existing treadmill, TrekDesk is an affordable, full sized workstation allowing individuals the opportunity to gain the necessary amount of exercise daily to maintain health, prevent disease, strengthen muscles, boost mood and productivity, without requiring additional time during the day or extra motivation.
TrekDesk is currently available for sale online at TrekDesk.com for $479.00 including free shipping.
Join the TrekDesk "Movement Revolution" to learn more on TrekDesk's Facebook page at http://www.facebook.com/pages/TrekDesk-Treadmill-Desk/80743563805.
Scientific American: http://www.scientificamerican.com/slideshow.cfm?id=2010-gadget-guide-sciam&photo_id=D18E25B6-A036-4FEB-BF7A29F38BC43345
CONTACT:
Steve Bordley
TrekDesk
Ph: 877-449-8588
FAX: 877-449-8588
info (at) trekdesk (dot) com
http://www.trekdesk.com
###