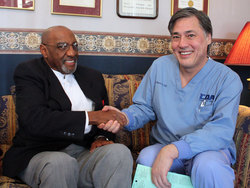 Thank God I can not only help myself and my family but I am in a position to help those that are not as fortunate as I. It is a blessing to be able to do that
San Antonio (PRWEB) December 20, 2010
Leukemia took his health, made him deaf and ravaged his teeth, but Andre Fredricks has a new smile, thanks to San Antonio cosmetic dentist Dr. John Moore, DDS, and the Donated Dental Services program of the Texas Dental Association's Smiles Foundation.
Fredricks, a 70-year-old San Antonio grandfather, was this year's recipient of major dental restoration work by Moore, of Cosmetic Dental Associates of San Antonio. Moore has been a volunteer dentist for the Donated Dental Services program since 2001 and has contributed more than $21,000 to the cause.
Fredricks is in remission from leukemia, a disease that brought him to the brink of death, according to his wife and translator, Mrs. Fredericks. "We lost him several times," she said. "We thought he was a goner."
At its worst, the disease took down his immune system, bringing the infection that took away his hearing, brought organ failures, and other ills. He wasted away to 92 pounds.
The disease and wasting took their toll on his mouth, where teeth and bridgework began loosening and falling out. By the time Fredricks saw Dr. Moore, he had just a few teeth left.
The financially strapped couple didn't have the resources to correct the dental damage left by leukemia. Then a neighbor who had been the recipient of donated dental services herself suggested that they apply for the Smiles Foundation's program.
The Texas Donated Dental Services program is open to patients who are at least 55 years or older, or have a permanent disability, and have no other way to get dental care. Patients submit their cases to the web site, and register online or in person to become a candidate for these services. Once the patients meet their requirements, their cases are then submitted to the doctors. The doctors review each case they are given, and choose the patient that is financially and medically unable to receive the treatment otherwise.
In Fredrick's case, the treatment started in July and continued several months into the autumn. Mrs. Fredricks said it was a godsend.
"We were blessed," she said, "Dr. Moore did an awesome job with my husband's teeth. We had a great time, and the whole staff (of Cosmetic Dental Associates) was friendly, nice and smiling."
Dr. Moore said: "Over all the years I lived in the community and what the community has done for me, I feel it is fun to give back and help others. Whether I help elderly people, children, my staff or animals I find it fun. Thank God I can not only help myself and my family but I am in a position to help those that are not as fortunate as I. It is a blessing to be able to do that!"
About Dr. John Moore, DDS
Dr. Moore has been a San Antonio dentist for more than 25 years, and his credits include serving as an assistant professor of dentistry at the University of Texas Health Science Center in San Antonio. He is a prolific lecturer and published writer, and has won numerous awards, including being voted into America's Top Dentists in Cosmetic Dentistry and honored as San Antonio's Top Dentist in Cosmetic Dentistry. He is also a top San Antonio orthodontist, and has been honored for his groundbreaking treatments in correcting major alignment problems with a "no braces" method without jaw surgery.
Contact Information
Cosmetic Dental Associates
5837 Babcock Rd. San Antonio, TX 78240
Phone 210-337-6453
# # #