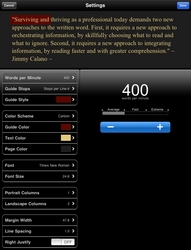 Some critics have claimed that reading eBooks is slower than reading a paper book, but with QuickReader you can actually read much faster than with paper.
Portland, OR (PRWEB) December 20, 2010
Inkstone Software today is pleased to announce QuickReader 3.0 for iOS, updating their top-rated Speed Reading eBook Reader with native iPad support. QuickReader combines a highly customizable eBook Reader, 1.8 million free books, and a highly effective speed reading guide to create a unique and powerful speed reading trainer. QuickReader incorporates a natural speed reading guide, incorporating the most effective speed reading techniques to painlessly break old reading habits, improving both reading speed and comprehension. Now, with version 3.0, QuickReader is an iOS universal app, and is the first and only speed reading app to run native on iPad. The update also features multi-column support and additional fonts, and is available free to existing users.
QuickReader 3.0 supports native screen resolutions of the iPad, iPhone Retina display, and iPhone, making it virtually three apps in one. Text is always as sharp and clear as possible, in both portrait and landscape modes, because the app does not need to compromise quality to accommodate a non-native display resolution. When used on iPad QuickReader allows the user to speed read with a clear, bright, full screen display. The app permits the reader to fully customize the display fonts, colors, text justification, and spacing. And new to version 3.0 is multi-column support, which allows the reader to specify from 1 to 3 columns in portrait mode and 1 to 4 columns in landscape mode. Multi-column support allows the user to adjust the column width to read straight down columns without scanning the eyes from left to right.
The app employs the digital power of the iOS device to both display the text and to help guide the user's eyes as they read. Having set a rate of speed, e.g. 400 words per minute, QuickReader employs a moving guide that highlights one or more words as it moves through each line. The color of the guide is user selectable, and it "chunks" each line of text according to the number of guide stops chosen in Settings. Typically, the app will make three guide stops per line on an iPhone, and move along at a rate fast enough to ensure reading at the selected speed of 400 words per minute. The guide is configurable for 100 to 4,000 words per minute.
Feature Highlights:

Access millions of books and improve productivity using QuickReader
Share web articles from Instapaper and read in QuickReader
Access over 1.8 million downloadable EPUB books from six catalogs, including Feedbooks, Project Gutenberg, Baen, Smashwords, Munseys, and Internet Archive
Add favorite DRM-free eBooks downloaded from Calibre or any standard OPDS catalog
Import articles, web pages, email and more with the QuickReader Pasteboards
Customize colors, fonts, text size, margins and more for the perfect reading experience
No more constant scrolling or page turning needed with the Guided Reading Technology
Save time by reading faster - learn to adjust speed as needed
Enhance reading focus and learn to tune out distractions with proven techniques
Incrementally improve reading speed with the best-selling Speed Reading Technology
Track reading improvement with QuickReaders' Speed Tests
Practice Speed Reading anytime, anywhere
Beautiful, customizable user interface to enhance reading pleasure
This method improves reading speed and comprehension in three ways. First, it helps the user expand the number of words they can read in a single "fixation," or guide stop, by relaxing focus and expanding field of vision. Second, it trains the reader to recognize and comprehend groups of words more quickly. And third, it habituates the user to move through the text more quickly without being distracted or backtracking. QuickReader easily accommodates iPhone, iPod touch, and iPad, in both portrait and landscape orientations. And the user has complete control over font, font size, font color, background color, margin width, line spacing, right justification, and more.
ReadeWriteWeb, in their review of QuickReader said, "QuickReader brings a much-needed breath of fresh air to the world of speed reading apps."
In addition to the app's speed reading and speed testing functionality, it is also a full-featured eBook reader. There are 53 full-length books included with the download and easy access to more than 1.8 million more. Also included is Instapaper compatibility. Instapaper is a free iOS app, which allows the user to instantly save web pages for later, off-line reading. Most web pages are saved as text-only, and are optimized for display on an eBook reader. Acclaimed as the ideal solution for reading longer web articles at the user's convenience, readers can move effortlessly between Instapaper and QuickReader.
"Some critics have claimed that reading eBooks is slower than reading a paper book," commented company Founder Patrick Thompson. "But with QuickReader you can actually read much faster than with paper."
More information and screenshots are available at http://www.quickreader.net.
Language Support:

US English, Spanish, French, German, Dutch, Simplified Chinese, and Traditional Chinese.
Device Requirements:

iPhone, iPad, or iPod touch
iOS 3.0 or later (iOS 4 optimized)
Universal application
18.9 MB
Pricing and Availability:
QuickReader 3.0 is $5.99 (USD) and available worldwide exclusively through the App Store in the Books category, and is a free upgrade for existing customers. Also available is a free Lite version, and a Young Reader edition. Special group pricing is available for schools. Review copies are available upon request.
About Inkstone Software, Inc.:
Based in Portland, Oregon, the Inkstone Software team is an independent software development company found by Patrick Thompson. With their strong blend of design and development skills, Inkstone's passion is to craft elegant, easy-to-use applications for iOS devices.
# # #